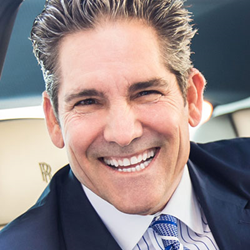 Never allow anyone to tell you how well you are doing when you know can do more. - Grant Cardone
Miami Beach, FL (PRWEB) September 22, 2016
Grant Cardone, international sales expert and NY Times best-selling author, has just finished writing his seventh book Be Obsessed or Be Average, which has already hit #1 New Release on Amazon for Entrepreneurship, Personal Finances, and Business Motivation & Self-Improvement. Cardone's previous books include Sell or Be Sold, The 10X Rule, If You're Not First You're Last, The Closer's Survival Guide, and The Millionaire Booklet.
Be Obsessed or Be Average is written to show people how to use their obsessions for good, how to become addicted to success, and to encourage those who have been labeled as ADD, ADHD, OCD, etc. Be Obsessed or Be Average explains that anyone can become super successful, but people must give themselves permission to be obsessed with the right things. Cardone, who has accumulated well over $100 million, tells us how obsession saved his life from the very beginning of the book.
"When I finally learned how to use my obsessions rather than make excuses for them my life exploded. In Be Obsessed or Be Average I will show you how to flip your so-called problems into the gifts of genius and the energy necessary to fulfill your purpose and unique reason for even existing." - Grant Cardone
According to Cardone, obsession is your only option. He advocates the idea of why you must be a control freak, stay dangerous, and over-promise while over-delivering.
Cardone takes readers through the lessons he learned in his own life that propelled him from drug addiction to mega successful entrepreneur.
The book is being published by Penguin Random House and copies of the book are on pre-order from GrantCardone.com/obsessed, Amazon, Target, and signed copies are available via Barns & Noble.
The author is donating his proceeds from the sale of the book to Drug Free World and Drug Free America, two non-profit organizations that bring awareness to the issue of the excessive drugging of children, teens, young adults and seniors.
For bulk orders or library donations, please call 310-777-0255.
About Grant Cardone:
Grant Cardone is a business strategist, marketing and branding expert, the leading international sales expert in the world and best-selling author of five books. Cardone owns multiple companies; Cardone Training Technologies , Inc., Cardone Group (a software and technology business), Grant Cardone TV (online media network--GrantCardoneTV.com), and Cardone Acquisitions, a national real estate company which currently owns over 3,500 units throughout the United States.
Cardone is the world's top sales training expert with the most viewed online sales training site in the world today with over 1500 segments of content used by companies like Ashley, Aflac, All State, Google, MIT, Inside Sales, Udemy, Chrysler, Toyota, Morgan Stanley, T-Mobile, AT&T, Sprint, Fran Tarkenton Companies and thousands more. You can follow Cardone on Twitter @GrantCardone or visit http://www.GrantCardone.com
----
For further press information on Grant Cardone please contact Vaughn Reynolds:
Vaughn Reynolds – Public Relations
Vaughn [at] GrantCardone.com
Cardone Training Technologies, Inc
Phone: 310.777.0255
Fax: 310.777.0256
Web: http://www.grantcardone.com