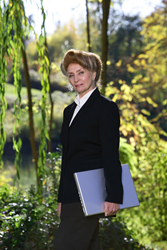 Grants Pass, OR (PRWEB) September 22, 2016
In response to the recently concluded 2016 World Water Week (August 28 - September 2), Water Life Science® advocate Sharon Kleyne joined presidential candidate Hillary Clinton in calling for advanced new water research, not just in the United States, but around the world. "The United Nations needs to do much more than they've done so far," said Kleyne, host of The Sharon Kleyne Hour Power of Water radio program. "Hillary Clinton's proposed water plan," Kleyne continued, "would be an excellent model for the UN to consider."
Rep. Jared Huffman of San Rafael, California, couldn't agree more, calling Clinton's plan "a very thoughtful framework. Rep. Huffman added that he especially liked the idea of a national water lab because water currently receives little research money. "She's (Clinton) talking about creating a new national water innovation lab," Huffman said, "like Livermore for energy. It's a great idea."
It's an idea that Sharon Kleyne has supported for more than two decades. Herself the leading water researcher in the world, Kleyne recently joined Dr. Gerald H. Pollack, an internationally acclaimed professor of bioengineering, in calling on foundations and the federal government to reverse the severe cut-off of water funding that took place in the 1950's. "That decision has proved to be disastrous," said Pollack. "The natural fresh water and water vapor of the planet are evaporating faster than they can be replenished," Pollack said.
"If this trend continues," Kleyne added, "we will not be able to sustain life on earth." Kleyne elaborated, explaining that the planet's water vapor is being lost to evaporation caused by pollution, global warming and artificial interior environments featuring air conditioning and central heating.
Kleyne, the founder of Bio-Logic Aqua® Research Water Life Science® who also discovered a rare Trade Secret tissue culture grade water in Oregon, warned that water crises like the one in Flint, Michigan will become more common unless we reverse our general ignorance about our most important natural resource and our shameful lack of water research. "Water research must be our number one infrastructure priority," Kleyne insisted. "The air we breathe will not keep us or anything else alive if we destroy the water vapor in that air. Remember that we are mostly water," Kleyne continued. "The eye lens is 99 percent water; the brain is 80-85 percent water; the lungs and liver are 70-80 percent water; the blood is 50 percent water; even the bones are 20 percent water. We are fluid. Everything around us is made of water. Hope doesn't keep us alive; the atmospheric water vapor does that. The surface of the eye and the rest of the body must be supplemented every day—and even several times a day—to counteract evaporation of the water vapor," said Kleyne. "That's why I supplement the water vapor of my eyes and skin with Nature's Tears® EyeMist® and Nature's Mist® Face of the Water®.
Kleyne, Dr. Pollack and Rep. Huffman see hope in a water plan like the one Hillary Clinton is proposing. Such an effort can turn the tide, but it will take a long time to recover from water disasters like the one in Flint and others worldwide. "Only comprehensive water education and water research will prevent a Flint water disaster from happening somewhere else," said Kleyne. "The United Nations must become the global leader in water research and the development of new international water technology. Nothing else on earth is more important than water," Kleyne concluded.