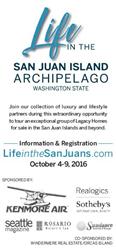 Seattle, WA (PRWEB) September 23, 2016
Realogics Sotheby's International Realty (RSIR) announced today a progressive tour of legacy homes in the San Juan Island archipelago from October 4-9, which is scheduled during the Savor the San Juans initiative managed by the San Juan Islands Visitors Bureau. A matchless collection of up to ten properties ranging from below $2,000,0000 to $17,000,000 will be available to preview for registered brokers on October 4th and 5th followed by open house viewings, by invitation, with prospective homebuyers on October 8th and 9th (by appointment). Participating lifestyle sponsors include Windermere Real Estate / Orcas Island, Kenmore Air, Rosario Resort, Seattle Magazine, Sea Magazine, Puget Sound Business Journal, Sundance Yachts, and GeekWire.
"This is a matchless opportunity to experience some of the most extraordinary legacy homes available for purchase in the San Juan Islands and beyond," said Dean Jones, President and CEO of RSIR. "Attending brokers and their clients will discover why this storybook lifestyle is such a well-kept secret and a relative value compared with our East Coast peer group. They will also discover considerable value being offered with these move-in ready estates."
Among the properties on tour is Friday Harbor Estate, which is currently owned by Rock and Roll Hall of Fame legend Steve Miller.
Jones recently commissioned a research study, the "Legacy Home Report" to explore property values with the San Juan Islands compared to New York's Long Island. He concluded that not only are the homes in the Pacific Northwest a fraction of property prices in popular harbinger markets like the Hamptons but, in fact, several are being offered below replacement costs - but perhaps not for much longer.
"As the Seattle/Bellevue metro area continues to prosper as the next global city on the rise, so, too will the concept of legacy home acquisitions in the destination communities that surround this booming economy," adds Wally Gudgell of Windermere Real Estate and longtime resident of Orcas Island. "Our property tour and the Savor the San Juans promotion will provide a convenient and seamless lifestyle experience for locals and newcomers alike."
Gudgell says island living spans a broad spectrum of lifestyles from modest farmers and craftsmen to Hollywood A-listers and tech titans, which helps create the diverse and dynamic culture scene supporting demand for all property types and price points. An enviable lifestyle and a lack of a state income tax in Washington have encouraged many to seek residency in the San Juan Islands for the majority of the year while traveling the world or enjoying a second home in warmer climates during the winter months.
The Legacy Home Tour will officially commence on October 4th where attending brokers will arrive to Rosario Resort and enjoy a wine tasting reception at a nearby listing for sale. On October 5th a series of shuttles will tour an Orcas Island estate before returning to the marina where guests will board a collection of yachts to visit or float by waterfront estates on San Juan Island, Shaw Island and Reef Island. The flotilla will return to Orcas Island where chartered flights operated by Kenmore Air will return guests to Seattle while others will stay to enjoy other festivities. Along the way, event sponsors promise to stimulate the senses with the sights, sounds, smells, tastes and touch that is unique to the region. John Spear, Director of Custom Publishing and Associate Publisher at Large for Tiger Oak Publishing, owner of Seattle Magazine will attend the festivities to document the experience for his readers.
During the weekend on October 8th and 9th the properties will be available for private showings by appointment with qualified homebuyers. Guests are encouraged to enjoy commercial flights operated by Kenmore Air and stay at the famous Rosario Resort, which was once a legacy home built by philanthropist Robert Moran that was later converted to a hotel and is featured in the report.
"We welcome guests to experience the natural wonder that we live in every day," said Lance Evans, Director of Orcas Island Chamber of Commerce. "Most people think of our community as a destination resort but the islands are home to full time residents with year-round services and amenities, renowned schools, and a robust cultural scene."
The Savor the San Juans campaign spans seven weeks from September 22nd through November 12th, which promotes food, farm and film experiences throughout the three main islands that comprise San Juan County – Lopez, Orcas and San Juan. The program includes an abundance of wine tastings, harvest dinners, farmers' markets, film festivals and cultural experiences, http://www.VisitSanJuans.com/Savor.
Properties showcased during the Legacy Home Tour include:

Cormorant Bay Estate | Orcas Island | $17,000,000 presented by RSIR
Friday Harbor Estate | San Juan Island | $16,800,000 presented by RSIR
Madroneagle Estate | Orcas Island | $10,000,000 presented by Windermere & RSIR
Langdon Road Estate | Orcas Island | $6,200,000 presented by Windermere
Private Waterfront Residences | Orcas Island | Undisclosed presented by Windermere
Crane Island Estate | Crane Island | $3,200,000 presented by Windermere
Reef Island Property | Reef Island | $5,000,000 presented by Windermere
Spring Hill Lodge | Orcas Island | $1,880,000 presented by RSIR
Braveheart Estate | Orcas Island | $1,895,000 presented by RSIR
Lopez Island Estate | Lopez Island | $1,229,000 presented by RSIR
A lifestyle video has been created by Realogics Sotheby's International Realty to showcase several of the properties and a marketing campaign has been launched to build awareness for the Legacy Home Tour.
For more information, visit http://www.LifeintheSanJuans.com
###
About Realogics Sotheby's International Realty (http://www.RSIR.com) - Artfully uniting extraordinary homes with extraordinary lives, Realogics Sotheby's International Realty is a leading global sales and marketing brokerage firm in the Pacific Northwest. Recognized by the Puget Sound Business Journal amongst the fastest-growing private companies in Washington State for 2012, 2013, 2014, 2015 and 2016 the boutique real estate firm of 180+ brokers consistently rank among the top producing firms within the markets that it serves with branches in downtown Seattle, Bainbridge Island, Kirkland, Issaquah and now Madison Park.
EDITORS NOTES: For high-resolution photography contact Andrea Savage at 206.448.5752 or email Andrea.Savage(at)RSIR(dot)com.