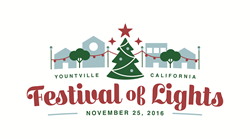 Yountville, Calif. (PRWEB) September 22, 2016
The season of light is never dim in the Napa Valley town of Yountville. November 25, 2016 the 28th Annual Festival of Lights will kick-off the holidays with flare. From 3-6 p.m., Yountville will be bustling with family-friendly activities for all ages. The entire town will be twinkling with merriment to rival any Dickens fantasy – a welcome diversion from Black Friday madness.
Here are eight great reasons to jumpstart the season at this jovial event:
GOURMET FOOD and WINE TASTING
This year, adults won't be the only guests that can taste, sip and swirl their way through the event. Kids can also get their own passport to enjoy special kid-friendly snacks and activities geared just for them. Adults can partake in tastings poured by more than two dozen wineries and nibble on creative and tasty seasonal bites by some of Yountville's award-winning restaurants.
Tasting tickets are $30 for Adult General Admission, which includes a tasting passport and GoVino glass. For $55, adults can purchase a Platinum Pass which includes unlimited food and wine tasting and a GoVino glass. Passports for children 12 and under are $5 for kids to enjoy child-friendly snacks and activities. Tasting tickets include access to all event activities.
JOYFUL MUSIC
Yuletide carols are somehow sweeter in the town of Yountville. Several music ensembles will lend their voices, music and talent to the festivities.
ROMANTIC CARRIAGE RIDES
Cozy horse-drawn carriage rides will be clip-clopping down the sparkling lanes of downtown Yountville starting at 6 p.m. It's an opportunity to cuddle up, drink a glass of wine and savor a special moment in Wine Country. Carriage rides are free for event attendees.
PHOTOS with SANTA
He's making his list and checking it twice and Santa will be ready and waiting for the sweet whispers (and occasional tears) of children eager to share their wish lists.
TREE and TOWN LIGHTING
Always the highlight of the festival, Santa and Yountville Mayor John Dunbar will light the tree in the Community Center Plaza located at 6516 Washington Street promptly at 5:45 p.m. Townsfolk and visitors far and wide will gather round – some perched atop the shoulders of sturdy parents – to gaze upon thousands of lights in the brisk November air. It's a community moment that draws people close and collectively brings joy to the season.
ONE-OF-A-KIND SHOPPING
From hand-painted chocolates and exquisite jewelry, to local artwork and luxury spa goods, Yountville's local artists and artisans offer one-of-a-kind gift ideas for everyone on your holiday list. Following the town lighting, Yountville's art galleries and boutiques will keep their doors open well past regular hours for convenient and enjoyable shopping experience. Many will have refreshments, too.
TASTING ROOMS STAY OPEN LATER
Revelers can wine taste after normal hours during the festivities and each tasting room in Yountville sells unique and exquisite wares alongside exceptional wine selections to check gifts off any holiday list.
FESTIVAL OF LIGHTS SCHEDULE:
3 p.m. – Food & wine tasting begins, along with live music
3 p.m. – Santa and his elves arrive via fire truck (photos with Santa begin)
5:30 p.m. – Food and wine tasting winds down
5:45 p.m. – Town & Tree lighting by Santa & Yountville Mayor John Dunbar
6 p.m. – Carriage rides begin down Washington Street, businesses stay open late with special holiday shopping offers
For tickets and further information on Festival of Lights, visit http://www.yountville.com or go directly to CellarPass to purchase passports – ON SALE NOW. Note: Tickets are only available for purchase online.
The Festival of Lights is sponsored by the Yountville Chamber of Commerce, Town of Yountville, Pacific Gas & Electric, MCE Clean Energy and Peak Productions.
YOUNTVILLE, TASTE LIFE HERE
Considered the culinary heart of Napa Valley, Yountville is the ultimate luxury get-away. With its world-class restaurants and accommodations, and many of the Valley's most celebrated wineries, Yountville marries a breath-taking setting and smalltown ambiance with a sophisticated Wine Country lifestyle.
The small town of Yountville was the site of Napa Valley's first planted grapevines. The walkable village amid the vines with gorgeous mountain views offers luxe lodging from cozy to indulgent, the only hot air ballooning launch in Napa Valley, five sites on the National Register of Historic Places, unique shopping, golf, art galleries and performing arts, plus a constellation of Michelin stars and renowned restaurants. An ideal base for wine lovers, Yountville's microclimate pedigree has its own American Viticultural Area (AVA) and offers unparalleled wineries and producers.
Located 55 miles north of San Francisco, visitors may arrive via scenic Highway 29, Napa County Airport, Sacramento (SMF), Oakland (OAK) or San Francisco (SFO) international airports.
For further information about Yountville lodging, dining, shopping, and activities, visit http://www.yountville.com.
For Festival of Lights details or interviews with Yountville mayor John Dunbar, town manager Steve Rogers or Yountville Chamber of Commerce CEO Whitney Diver McEvoy, journalists are asked to contact Denise Olliffe, olliffe@mackenzieagency.com or Karen MacKenzie, mackenzie@mackenzieagency.com, (707) 545-3280.