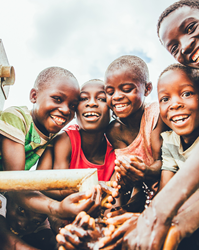 "Grandmothers all over the world tell children, 'Wash your hands!'" said Dr. Kevin Prine, Outreach International's CEO. "Their reminders are especially important in places where disease is easily spread because of the living conditions."
Kansas City, MO (PRWEB) September 27, 2016
Improving hygiene in some of the world's poorest communities is a matter of one hand washing the other, in both a figurative and literal sense. In celebration of Global Handwashing Day on October 15, 2016, Outreach International, a Kansas City-based global nonprofit focused on resolving deep poverty throughout the world, has been selected by Dial®, the #1 doctor-recommended antibacterial soap in the United States, to partner on a campaign to increase awareness of sanitary habits and expand access to handwashing stations throughout impoverished communities worldwide.
Global Handwashing Day is a chance to emphasize the need for everyone to have access to clean, safe water. The Dial brand and Outreach are committed to improving sanitation and health for people worldwide. In an effort to maximize the success of Global Handwashing Day, Dial is offering to donate $1 to Outreach (up to $50,000) for each person who signs up for Dial Rewards [dialrewards.com] using the promo code CLEANH20 at outreach-international.org/cleanwater.
For more than 30 years, Outreach's approach to ending poverty has been inextricably rooted in community partnerships; forging sustainable solutions that increase self-reliance, dignity and self-worth among participants, largely through projects focused on sanitation. An initiative focused on enhancing healthy practices through regular handwashing with soap and water fits the model perfectly: An Outreach partner community accesses the resources to set up handwashing stations in public places, constructs and maintains the stations themselves, and communicates a better understanding of the reasons proper hygiene is in everyone's best interest in an organic manner.
In Zambia, Outreach recently collaborated with community members to construct pumps and wells in their local market, as well as plans to outfit all 201 households there with handwashing stations— 33 of which have already been installed.
"Now that we have the handwashing stations, we've seen a very big difference in the number of illnesses in the community," said Shadrack Kabonko, the secretary for the Outreach-affiliated Muchinshi community in Zambia. "Before, there were many sick people, and now, illnesses in the community have been reduced to almost none."
"Grandmothers all over the world tell children, 'Wash your hands!'" said Dr. Kevin Prine, Outreach International's CEO. "Their reminders are especially important in places where disease is easily spread because of the living conditions. We are grateful to Dial for calling attention to the issue, but also for providing a cost effective, simple solution that offers consumers the opportunity to help others in need and make a global impact."
For more about Outreach International's unique, proven strategy to eliminate poverty, visit outreach-international.org.
About Outreach International: Outreach International has provided sustainable solutions to end poverty around the world for almost 40 years. We believe giving a gift without educating a community to use, repair, or nurture it is no gift at all. Projects don't end poverty, people do. That's why our key investment is in the people themselves— women, men, and children with stunning resilience, untapped intelligence, inherent creativity, and undeniable dignity. Together, we work to give our partners a voice to express their concerns, a means to access the materials they need, and the skills to bring themselves, and their communities, to sustainable levels of income.
Henkel in North America: Henkel markets a wide range of well-known consumer and industrial brands in North America, including Dial® soaps, Persil and Purex® laundry detergents, Right Guard® antiperspirants, got2b® hair gels, and Loctite® adhesives. Visit http://www.henkel-northamerica.com for more information.
About Dial: America's trusted brand for 65 years, Dial® continues to deliver clean, healthy skin for you and your family. Dial® Healthier Skin. Healthier You. ®
About Henkel: Henkel operates worldwide with leading brands and technologies in three business areas: Laundry & Home Care, Beauty Care and Adhesive Technologies. Founded in 1876, Henkel holds globally leading market positions both in the consumer and industrial businesses with well-known brands such as Persil, Schwarzkopf and Loctite. Henkel employs almost 50,000 people and reported sales of $20.1 billion and adjusted operating profit of $3.2 billion in fiscal 2015. Henkel's preferred shares are listed in the German stock index DAX.