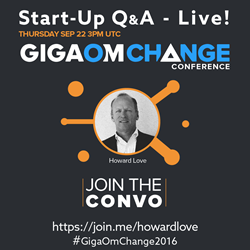 "The Start-Up J Curve will train you how to get through your early business challenges, and get to the fun terrain that is sustained business growth as soon as possible." - Inc. Magazine
BURLINGAME, CA (PRWEB) September 22, 2016
Silicon Valley serial entrepreneur, LoveToKnow CEO and angel investor Howard Love (HotelTonight, FlexJobs , GigaOm, Trulia, Liftopia) has successfully founded or co-founded 15 businesses & invested in over 50 start-ups.
Howard recently launched the Amazon bestseller "The Start-Up J Curve: The Six Steps to Entrepreneurial Success" (August 30, Greenleaf Book Group), which summarizes the many lessons that he learned over 35 years of being an entrepreneur.
Now, Howard Love brings his expertise to a new format, providing entrepreneurs & start-up founders with an opportunity to get their most pressing questions answered in real time.
LoveToKnow CEO Love says he is hosting the Q&A since "In my travels around the country and in the talks I've given, I've been amazed by the interest that entrepreneurs have in live Q&A. They just have so many unanswered questions! One Q&A session at the Capital Factory in Austin went on for over 2 hours - so I decided to open it up to entrepreneurs around the country."
This week, Start-Up Q&A Live! will be based in Austin, TX at the GigaOm Change Conference.
Entrepreneurs can join the conversation Thursday September 22nd at 1 pm PST / 4 pm EST at https://join.me/howardlove.
Start-Up Q&A Live! will be held weekly and Love will take live questions.
More About "The Start-Up J Curve":
Start-ups are very hard and challenging. This book is designed to get founders through the tough times and speed them to success.
In The Start-Up J Curve, you'll discover:

Where you are in the process from start to IPO and what to do next
How to use focus to save yourself time and money
How to adapt your original idea into a successful product
The different types of CEOs and how to consider your leadership place in the world
How to increase your odds of success, and much, much more!
"The Start-Up J Curve will train you how to get through your early business challenges, and get to the fun terrain that is sustained business growth as soon as possible." - Inc. Magazine
MSNBC Your Business interview here.
Yahoo! Finance interview here
About LoveToKnow Corp
LoveToKnow Corp. is an online media company dedicated to providing trustworthy advice, information and products for families. The company's media properties include lovetoknow.com, yourdictionary.com, golflink.com, trails.com and a number of other smaller sites.