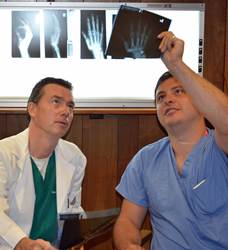 Santa Rosa, CA (PRWEB) September 23, 2016
Sonoma Magazine's Top Doctor survey was sent out to local doctors who were then asked which medical specialist they would most often recommend to a loved one, and 327 professionals emerged as top docs in 50 categories of medicine. When the votes were tallied Dr. Mazur and Dr. Mintalucci stood out among their peers, which is nothing new to the many patients who have benefited from their expertise and outstanding professional services.
The Hand Center at SRO and Dr. Mazur and Dr. Mintalucci
SRO's Hand Center is the only hand center in California north of San Francisco that consists of board certified orthopaedic surgeons who have earned the Certificate of Added Qualification in Hand and Upper Extremity Surgery (CAQ), thanks to doctors Mazur and Mintalucci. This additional training at the fellowship level assures patients that their surgeons provide the most up-to-date, medically appropriate treatment. The Hand Center at SRO is also the only hand center that has an in-house hand therapy program with three full-time certified hand therapists.
Both Dr. Mazur and Mintalucci specialize in diagnosing and treating patients with a wide variety of conditions that affect the fingers, hand, wrist, elbow and shoulder including:

Trauma care
Work-related injuries
Sports injuries
Minimally invasive surgery
Nerve and tendon conditions
Arthritis
Fractures
Repetitive stress injuries
Wound care
Congenital defects
Amputations
About Dr. Mazur
Dr. Kai-Uwe Mazur is board certified and fellowship trained in hand and upper extremity orthopedic surgery. He specializes in the latest techniques in hand and upper-extremity joint arthroplasty and replacement, advanced arthroscopic reconstruction, ligament reconstruction of the upper extremity, tendon repair, vascularized bone grafting, peripheral nerve surgery and microsurgery.
Dr. Mazur also provides leading-edge treatment for cumulative trauma disorders and performs minimally invasive surgeries for carpal tunnel syndrome and other overuse disorders. He is also now offering Platelet Rich Plasma (PRP) injections to promote quicker healing and less pain.
About Dr. Mintalucci
Dominic J. Mintalucci, M.D. is a board certified, fellowship trained orthopaedic surgeon with additional subspecialty training in Microsurgical, Hand and Upper Extremity surgery. He has also been trained in the most advanced surgeries including Tenex plantar fasciitis, Achilles tendon, patellar tendon and elbow surgeries and he now offers patients Platelet Rich Plasma (PRP) injections for quicker healing and pain relief.
About the Hand Center at SRO
The Hand Center affords each patient state-of-the-art medical care in a friendly and compassionate environment under a unique team treatment model that focuses on diagnostics and meticulous surgical details, in addition to carefully monitored post-surgical rehabilitation and recovery. In combination with certified hand therapist and medical staff, SRO physicians offer exceptional quality, in both surgical and non-surgical evaluation and treatment.
The Hand Center's surgeons and certified hand therapists work closely together on cases to assure quality of care and consistently deliver successful results for patients. This personalized, collaborative approach incorporates on-site diagnostic x-ray, MRI services as well as SRO's fully automated and HIPAA-compliant electronic records system that work to achieve the highest level of patient recovery.
For more information, visit the SRO website or call 707-546-1922