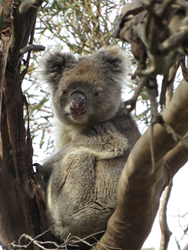 Being able to see animals in the wild, is a fantastic experience.
Plymouth, MN (PRWEB) September 22, 2016
Australia consistently ranks as the number one dream international destination for Americans and is regularly among the Top 5 international luxury travel destinations being booked, according to Travel Leaders Associates – America's top retail travel agency brand. A luxury experience is even easier to achieve, as the value of the Australian dollar has fallen nearly 30% against the U.S. dollar in the past two years, making Down Under down right more affordable. Given American travelers will get more value out of each dollar spent than they have since 2010, Travel Leaders travel agents are sharing their expertise on what to see and do when making this more affordable luxury destination a reality.
Here are seven exciting reasons to visit Australia, from Travel Leaders' experts:
Kangaroo Island. "Travelers looking for an adventure in Australia will love, love, love Kangaroo Island," said Jacqie Swanson, an Aussie specialist from the Rice Lake, Wisconsin, Travel Leaders location, who just returned from the continent earlier this month. "Being able to see animals in the wild, and not in a zoo is a fantastic experience, especially in such a naturally-beautiful wilderness with gorgeous sculpted rocks." Kangaroo Island, the third largest island off the coast of mainland Australia, is where sea lions bask in the sun on white sandy beaches, koalas relax among the eucalypts and the ubiquitous kangaroos are everywhere.
The Sounds of Silence Tour. The Sounds of Silence is a unique outdoor dining experience with 360-degree views of the surrounding landscapes, from sand dunes and Uluru (Ayers Rock) to the domes of Kata Tjuta, as well as stargazing once the sun has set. "Sounds of Silence is just as intriguing as its name, not to mention the highly visible 50,000 stars," said Debbie Sebastian of Travel Leaders in Danville, Kentucky. She also suggested that when one is ready take in city life, Sydney is calling with its iconic Opera House, the famous Harbour Bridge and the Rocks Market. "If you are looking for a dress, a one-off piece of jewelry or even a souvenir, they have everything," she added.
Sydney Sights, Sounds and Sustenance. "While in Sydney, climb the Sydney Harbour Bridge for an amazing panoramic view of the city. It is a remarkable, unforgettable experience," said Wally Jones, a certified Aussie specialist with one of the Travel Leaders in Phoenix, Arizona. "When you're ready for dinner and if you're a meat eater, sample a bite of kangaroo, crocodile or emu. Much like beef, they are prepared in a variety of ways, including sausage, burgers and steaks." He added that wine lovers should order a shiraz and for beer drinkers he recommends Coopers or a local tasting flight.
Recommended hotels include the Park Hyatt Sydney, the Shangri-La and The Langham, which is a luxury boutique on Sydney's harbor. Additionally, Jones said travelers should head to Melbourne or Brisbane. The Park Hyatt Melbourne has terrace suites with private balconies. It's a nice escape at the end of the day.
Darwin and Lizard Island National Park. "If you want to see crocodiles, you must visit the Northern Territory and the area around Darwin," said Kristi Ali Mackedanz, from Travel Leaders in Woodbury, Minnesota. "There are more crocodiles in this region than anywhere else in the world. Some boat tours even have feeding sessions. Also, my luxury clients particularly enjoy a visit to Lizard Island off the coast of Cairns. It is a one-hour flight from Cairns and there is a research station on the island where you can learn about the coral reef systems." The best time to visit this area is between May and October, when rain is less likely and the temperatures are cooler.
Blue Mountains National Park. A visit to New South Wales, must include a venture into the Blue Mountains, which gets its name from the blue rays of light created from the droplets of oil and water vapor in its atmosphere. "On a tour of the Blue Mountains National Park you will see its magnificent rock formations and waterfalls. Wentworth Falls and the Three Sisters rock formation are great attractions," said Arvid Olson, an Australia Specialist with the Travel Leaders location in Palm Coast, Florida. "Also, a trip to the area wouldn't be complete without going underground to Jenolan Caves, one of the oldest caves in the world. It has underground rivers and deep limestone formations." Cave tours are suited for people of all ages and fitness levels.
Great Barrier Reef. There are items you want to be sure to have with you when traveling to Australia," said Penny Seaver of the Travel Leaders in Sun Prairie, Wisconsin. "For one, remember to bring your dive certification card. Scuba diving is an amazing experience around the Great Barrier Reef, which has very healthy and diverse marine life." Also, given the climate varies in different parts of the country or from day to night, Seaver added: "Wear layers of clothing, depending on your itinerary and bring a water bottle to refill." For the trip overall, she also recommends a portable battery pack, electric converter and adapter and limited baggage. "Some flights on your itinerary may be with smaller aircraft that will not have room for large luggage."
Off the Beaten Track. There are many popular sites in Australia, and some are well off the beaten track, and are definitely worth a trek to experience the local culture, said Mike King, a certified Premier Aussie specialist with the Travel Leaders in Fredericksburg, Virginia. "There's the laidback town of Coober Pedy where you can learn about opal mining, or pearl lovers can go to the resort town of Broome (there are no traffic lights, but there's seashore on both sides of the town)." King also noted Alice Springs' "School of the Air" where the population was so small there were no traditional schools and students took classes via shortwave radio. Today, classes take place via the Internet. "I've been to Australia 17 times and there are so many great places to visit, I could go on and on."
Travel Leaders has hundreds of travel agents around the United States who specialize in Australia and in active and adventure travel. Any one of them can speak about current promotions and work with each client in creating a customized Australian vacation. When contacting Travel Leaders, refer to vacation code "Australia" for the latest travel special Down Under.
"Travel Better" with Travel Leaders. To find a qualified agent, visit Travelleaders.com. Or to find the nearest Travel Leaders location, visit Travelleaders.com or call 800-335-TRIP (8747).
Photos are available at: http://bit.ly/TL0916-AusPhotos
# # #