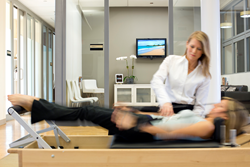 "We give them information to understand their pain, its potential source, and the movement that may be perpetuating it," says Vincel.
New York, NY (PRWEB) September 23, 2016
Over the last 17 years, America has witnessed the huge rise in opioid usage but instead of becoming pain free, chronic pain continues to plague 100 million people. We now have a third of the population not only suffering in pain but also experiencing the risks of opioids, such as depression, addiction, overdose, reduced cognitive function and a 40% likelihood of becoming addicted to heroin instead of becoming pain-free. The APTA, the medical community and the CDC agree that we must use safe alternatives, like Physical Therapy.
KIMA Center For Physiotherapy & Wellness is arguably New York City's most progressive Physical Therapy center. Cofounded by Tracey Vincel PT MPhty ECC and Patricia Ladis PT ECC, KIMA is integrating a unique fusion of tradition Physical Therapy (PT) and wellness modalities such as; Clinical Pilates, Therapeutic Yoga, Breath Work, Acupuncture, Essential Oils, Nutrition Counseling, and even Hypnosis. Clients arrive with pain but quickly realize that they need to consider a multidimensional perspective encompassing things like lifestyle, mental well-being and the environment.
"When people seek quick pain relief and choose opioids, they only mask the symptoms. When pain has become chronic, we need to return to the mind's relationship to the body," says Patricia Ladis, who has 17 years of clinical experience, and is highly knowledgeable in pain and manual therapy through post-graduate continuing medical education certificates and is certified in educational capnography where she analyzes & trains better breathing habits.
"What works the best for our pain clients, is taking a holistic and integrative approach which means balancing a level of 'knowing' with a level of 'being'. We give them information to understand their pain, its potential source, and the movement that may be perpetuating it," says Tracey Vincel, who has 2 Master's Degrees in Orthopedic Physical Therapy, lectures at the NY Pain Society annual meetings and has 18 years of clinical experience treating and preventing pain.
Holistic physical therapy aims to treat the cause of the pain in order to eliminate it, so wellness modalities such as Massage, Yoga, Meditation, mind-body psychotherapy, can easily be integrated. But, the question remains: are people getting better? "This multi-faceted approach has helped people see huge improvements," says Ladis. "Some have come to us unable to sit for more than 5 minutes due to debilitating pain and we have gotten them to tolerate 45 minutes of sitting! That is a 900% improvement with no side-effects!"
Vincel explains how they empower their patients; "We help them to feel a different way of being, such as a physical connection to core stabilizing muscles or a sense of calm that comes from optimal breathing. Pain is removed by diffusing the threat associated with it, getting to its cause, and reawakening a wisdom from within - not by treating symptoms"
ABOUT KIMA: Located on the 8th floor, at 7 West 22nd Street, New York, NY 10010, KIMA is a private practice that combines traditional physical therapy services with innovative wellness programming. KIMA seeks to prevent and manage musculoskeletal pain and to enhance performance using evidence-based research, the highest-level technology, and cutting-edge orthopedic treatment techniques.
Tracey Vincel and Patricia Ladis are available for media interviews: Please contact: Kate Rolston (917-523-8701)
For More Information visit: http://kimawellness.com
To book an appointment at KIMA Center For Physical Therapy and Wellness, please contact: EMAIL: info(at)kimawellness(dot)com PHONE: 212 686 3101. Get Safe, Effective Pain Relief at Kima Wellness