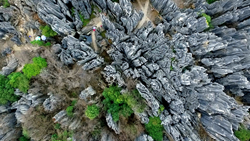 This isn't just for people who have been to China, but instead for anyone who loves photography and learning about the world's special places
Kunming, China (PRWEB) September 29, 2016
China's Yunnan province is already a national favorite in a country where tourism has grown to become something of a national obsession, with local governments now striving to generate international recognition. At one travel hotspot called the Stone Forest, officials are employing a novel approach, an interactive photography competition aimed at generating publicity outside of the country.
The Stone Forest Scenic Area in central Yunnan is a UNESCO World Heritage site visited by more than four million Chinese tourists each year. However, the 500 square-kilometer expanse of limestone caverns, spires, and scenic spots has "yet to capture the imagination of an international audience," according to Wang Yongqiao, vice president of the Stone Forest Administration. In an effort to show potential visitors from across the globe what local officials bill as a "petrified land of wonders", the Stone Forest International Photography Competition was created.
The website GoKunming, which has been operating in southwest China for more than a decade, was hired to design and execute the online contest. Company CEO Yereth Jansen explained the effort as one based on accessibility, saying, "We designed the contest website to be as interactive as possible. This isn't just for people who have been to China, but instead for anyone who loves photography and learning about the world's special places."
Yunnan borders Vietnam, Laos, and Myanmar and is one of the most geographically and biologically diverse locales in the world. The often overlooked section of China contains glacier-topped mountains six kilometers high, vast expanses of tropical rainforest, three of the largest rivers in the world and one of the deepest gorges on the planet. It is also home to 26 indigenous cultures, many of which are found nowhere else. Chinese scientists estimate half of the country's total biodiversity is contained in this single region.
"Simply put, Yunnan is an incredible place. It deserves to be known internationally, and the Stone Forest is one of the province's crown jewels," Jansen explained at a press conference announcing the Stone Forest photo contest. Participation is simple, and according to Jansen, "People with digital photos of the Stone Forest can upload them to the contest website, and from there anyone can vote for their favorites by simply using an integrated Facebook login."
As with many places in Yunnan province, the Stone Forest is attempting to refocus a large part of its economy on green and sustainable ecotourism, a fact administrators are keen to promote. More of an emphasis is also being put on explaining the culture and customs of the Yi people, an indigenous group native to the Stone Forest. "We want to pursue a sustainable model while also cultivating a more global appeal," says Wang. "An international photography contest is a wonderful way to show the world the culture, landscapes and people of the Stone Forest," he said.
The Stone Forest International Photography Competition 2016 is well underway and will run until November 14. Both weekly and category winners are chosen by popular online vote, with a jury of five professional photographers choosing the contest's overall winner. A month-long exhibition of the winning photographs will be held at the five-star hotel, Sofitel Kunming, in late November.