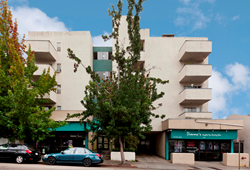 San Francisco, CA (PRWEB) September 26, 2016
Paragon Commercial Brokerage, a full services real estate company, represented a local San Francisco buyer in the off-market purchase of 421 East 18th Street in Oakland, California. The 84-unit multifamily investment property traded for $15.3 million, or $307 per square foot, setting a new high watermark for the Lake Merritt area.
Ben Weil of Paragon Commercial Real Estate's Ben Weil Team, represented the buyer in the transaction, the sellers, represented themselves.
Built in 1972, the 84 unit property includes 52 studios, 31 one-bedroom/one-bath units and 1 one bedroom plus den manager's unit. There are two commercial units on the ground floor and a gated entry to a 19-car parking garage. The property is currently 90 percent leased.
About Paragon Commercial Brokerage
San Francisco's largest Privately Held commercial real estate firm is a division of Paragon Real Estate Group, a locally owned and managed real estate company in the Bay Area that conducts business across all market segments – residential and luxury home sales, investment and commercial property sales and leasing, new home sales and rentals. Having completed its 11th year in business, Paragon currently brokers over $1.9 billion in annual Bay Area real estate sales.
Visit: http://www.Paragon-cb.com, 1700 California Street, San Francisco, CA. 94109 415-874-5000