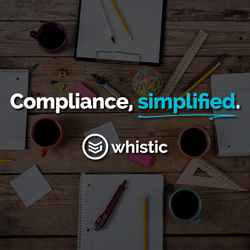 Whistic now has a simple online readiness assessment that takes about 30 minutes to complete
Orem, Utah (PRWEB) September 27, 2016
Whistic, Inc. is proud to announce the launch of a new, no cost, tool that simplifies the process of complying with the new E.U. US Privacy Shield.
"Not all companies can afford to spend months with consultants to get their head wrapped around what is required to comply with Privacy Shield," says Josh Mortensen, CEO of Whistic. "That's why Whistic decided to utilize the same technology that powers its award winning vendor risk management and analytics platform, and apply it to Privacy Shield." The result is that Whistic now has a simple online readiness assessment that takes about 30 minutes to complete, allows people to easily collaborate online with colleagues, and produces a streamlined gap analysis and Privacy Shield readiness report.
Companies can now obtain their gap analyses and Privacy Shield readiness reports at no cost at http://www.whistic.com/privacyshield. The assessment tool is available to companies that were covered under the now defunct Safe Harbor framework, or that are looking to comply with the new Privacy Shield framework for businesses that process the personal data of European Union citizens in the United States. Companies that self certify and join Privacy Shield prior to September 30, 2016 are granted a nine month grace period to conform any contracts with third party processors to the Privacy Shield's new regulations.
While some of the larges technology companies in the world have recently garnered headlines for self certifying with the Privacy Shield framework, Whistic's readiness assessment tool is a no cost way for companies of all sizes to quickly get up to speed on Privacy Shield and understand what areas the business needs to focus on in order to comply. Companies can also opt-in to value added services such as having Whistic handle the self certification submission and annual registration process on their behalf, or producing a press release when the company becomes fully compliant.
"Whistic is on a mission to make compliance simple and affordable for companies of all sizes. Privacy Shield is a great showcase for the Whistic platform and is already receiving a very positive response from the market," says Mortensen.
About Whistic
Whistic is an award winning risk assessment and analytics platform that makes it easy for companies to assess service providers or self assess against compliance and security standards (e.g. PCI, DSS). Headquartered in Orem, Utah at the heart of the Silicon Slopes Whistic is the creator of the CrowdConfidence Scoring algorithm that relies upon the combined expertise of hundreds of IT security professionals to assess the residual risk of sharing data with a vendor. Whistic was the recipient of the "Best Enterprise" award at the World's Largest Startup Event: Launch Festival 2015. For more information about Whistic, visit: http://www.whistic.com.
About Privacy Shield
The E.U. U.S. Privacy Shield Framework was designed by the U.S. Department of Commerce and European Commission to provide companies on both sides of the Atlantic with a mechanism to comply with EU data protection requirements when transferring personal data from the European Union to the United States in support of transatlantic commerce. For more information, visit: https://www.privacyshield.gov