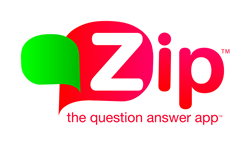 San Diego, CA (PRWEB) September 22, 2016
You may recognize the app name Zip, the completely anonymous, 100% free social platform that enables users to share their opinions across more than 29 different categories. Zip has recently received widespread national media attention for statistically significant results and national trends gathered from its users weighing in about Colin Kaepernick's actions during the recent 49ers game, as well as their support for Donald Trump versus Hillary Clinton in the presidential race.   
While Zip is a politically neutral forum for public opinion, the platform received provocative results from questions its users posed about Donald Trump versus Hillary Clinton that showed more support for Trump than reflected in other national polls - just before users took to the app to provide their opinions about Colin Kaepernick, with 75% of football fans feeling justified about boycotting the 49ers due to Kaepernick's perceived unpatriotic actions.
In addition, top industry executives have recently joined the Zip Advisory Board to help build on the app's success. The Zip team has partnered with former Fox executives Sandy Grushow, Jon Hookstratten, Ira Kurgan; and Jay Tobin, President of Looking Glass Entertainment, to take Zip to the next level. The four execs form the basis of the Zip Advisory Board, which will be responsible for integrating Zip into media networks and identifying and qualifying investors. They will also be active in executive-level decisions and developing national and global brand partnerships.
"We are absolutely thrilled and honored to have this group of high ranking media executives serve as our Advisory Board," said Ric Militi, Co-Founder and CEO of Zip's parent company Crazy Raccoons, LLC. "They instantly recognized the value Zip brings in the form of content and consumer engagement. Their clear understanding of the direction the media is moving towards, combined with their relationships in the media industry will help make Zip the next iconic social media platform."
Grushow, Hookstratten, Kurgan and Tobin have a proven track record of high-level successes and will bring their vast experience to Zip's executive management team.
Kurgan, the former Head of Business Operations at Fox, weighed in as well, stating: "I believe that being able to gauge what the public is really thinking about issues and trends is incredibly valuable in today's fast-moving and disruptive environment. Helping Zip become a regular part of consumers' daily interaction with the world we live in is exciting to me."
The app works as a national social platform, allowing users to ask opinion-based questions and receive answers in real time. Since everything is kept 100% anonymous, users are able answer honestly for the first time thus far in social media. 
Co-Founder Ric Militi maintains that Zip is "not just for political news", but rather is "an ongoing national conversation that provides truly accurate and representative data on anything subjective, from popular culture to the national election."
In regard to why Zip was able to predict the turn of the current political polls, Militi adds, "It's understandable that Trump followers, like all users that are drawn to Zip regardless of their age, gender, social views, interests and more, feel comfortable using our social platform because of its anonymous nature. Zip was designed to prevent bullying, intimidation, profanity or egregious comments, and that's why relationships and dating is actually our most popular category alongside politics because people have very personal views in both arenas. We're hoping now that users across the country from all viewpoints will continue to join in and voice their opinions equally."
Zip is the only question-and-answer app of its kind that enables its users to poll large audiences in a nonbiased, completely anonymous context. Zip is revolutionizing the communications industry with its proprietary app, which allows for interactive two-way communication between media, brands and public figures, and national audiences- making it the perfect platform for anything from media to business and education.