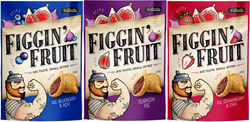 Figgin' Fruit™ appeals to a consumer that appreciates and wants great taste in a snack, but is looking for something that is naturally a better choice
Chicago, IL (PRWEB) September 27, 2016
Figgin' Fruit™ launched early September and will be expanding distribution in retailers across the U.S. The edgy new brand brings "Big Taste in a Small Bite", combining the delicious taste and nutrition of figs with other good-for-you ingredients, like Chia, Acai and Blueberries, all baked in a tender whole grain dough, in a unique mini-fig shape. Each poppable Figgin' Fruit™ bite is made with real fruit, non-GMO ingredients, and has no artificial flavors, colors or preservatives. Figgin' Fruit™ is also dairy-free and vegan.
"Figgin' Fruit™ appeals to a consumer that appreciates and wants great taste in a snack, but is looking for something that is naturally a better choice", said Stan Turek, General Manager Hello Delicious! Brands. "Our company's mission is to offer consumers uncompromising taste, using mindful ingredients. With a delicious fruit filling that makes up more than 40% of the product, Figgin' Fruit™ does just that!"
"This product has great universal appeal, and as retailers' merchandising strategies shift, it provides the opportunity to get more creative with shelf placement.", said Mike Pierson, SVP of Sales for Hello Delicious! Brands. "They are finding new and innovative ways to merchandise it, in the produce section, in the premium snack aisle, or with the fruit snacks. It's a great opportunity to have, and comes from having a product that meets so many consumer needs for something snack-able, yet good for you."
Look for Figgin' Fruit™, coming this month to all Ahold USA retail divisions of Stop & Shop, Giant Food of Landover, Giant Food Stores of Carlisle and Martin's, where it will be merchandised in the produce section.
Figgin' Fruit™ is available in three flavors:

Turkish Fig
Fig, Blueberry & Acai
Fig, Strawberry & Chia
Please visit http://www.hellodelicious.com to see where to find it and to learn more about our latest snack food innovations.
About HelloDelicious! Brands
Headquartered in Chicago, IL, Hello Delicious! Brands LLC is a new snack company that combines the creativity of entrepreneurs with the experience of leadership from large consumer packaged goods companies. The mission of Hello Delicious! Brands is to bring surprise and joy to consumers through its newly created distinctive brands, including Figgin' Fruit™, Napoli's Pizza Crust Chips™, Brittle Me This™, Harvested for You® and others.