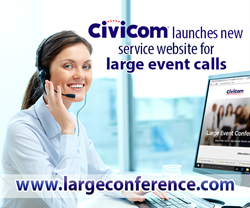 Civicom believes it is crucial that large event calls run smoothly and are affordable.
Greenwich, CT USA (PRWEB) September 22, 2016
LargeConference.com is an easy to navigate site designed to give parties interested in affordable large event calls a resource to facilitate both self-directed and operator-assisted large event calls and represents a targeted solution among Civicom's widely popular conference call solutions. LargeConference.com aims to cater to clients with conference call needs for large parties without sacrificing affordability and reliability. Civicom is highly experienced in all telephone and web conferencing, providing customizable and dedicated support to clients across the globe.
Civicom's large conference call service offers clients a vast range of features to choose from for large event calls. Conference administrators can now handle as much of their large event call as they feel experienced to do using this service. This significantly enhances affordability for organizations that may not need or want to pay for the full range of services that Civicom offers. On the other hand, any customer who needs professional operator assistance or white glove service can avail themselves of these offerings, often choosing only the ones they really need, rather than buying a more costly service package. The result is a solution for everyone who needs to run large conference calls.
Interested parties can view the available customizable option offers on the largeconference.com website, displayed alongside crucial service features that are currently offered to large event clients. The new website is designed with simplicity and accessibility in mind including multiple options for large event calls.
LargeConference.com is only one of Civicom's wide range of technology facilitated solutions for various types of organizations. Among other services, Civicom also offers a full range of self-directed conferencing capabilities as well as enhanced call experiences with customized operator-assisted conferencing services. Through ConferTel, its subsidiary company, Civicom offers customized managed webinars including a payment processing webinar service which allows clients to charge and collect funds from attendees, thus creating revenue from a webinar program. Virtually every possible conferencing or webinar need is fully covered by Civicom's wide range of audio and web conferencing services.
Civicom offers conferencing services in multiple countries. As a global innovator, Civicom prides itself in being able to provide services to organizations in almost every country in the world.
For more information on the new service, please visit http://www.largeconference.com.
Civicom serves many of the world's top 500 and largest corporations with advanced communications solutions, and is able to do so at a very low cost due to a next-generation SIP technology platform; the first implementation of its kind in the U.S. The company was founded in 2000 on the premise that a combination of low-cost, convenience and excellence in communication services would meet with broad acceptance in the marketplace. Civicom's current services include phone conferencing, self-directed and operator assisted.
If you have any questions regarding information in these press releases please contact the company listed in the press release. Our complete disclaimer appears here conference calls, large event conference calls, web conferencing, managed webinars, marketing research services, transcription services, CRM solutions, interactive sightseeing app, and enterprise and consumer mobile remote assistants.
To learn more, email Civicom® at customercare(at)civi(dot)com or call +1-203-413-1811