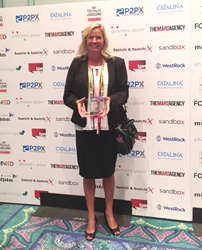 Neenah, Wis. (PRWEB) September 22, 2016
Menasha Director of Marketing Jill Andersen has been named to the 2016 class of Women of Excellence by Path to Purchase Institute (P2PI) along with a group of deserving women, recognized for their leadership, knowledge, and influence in retail.
Andersen has worked in the retail merchandising industry for more than 20 years, with 15 of those years spent at Menasha, a leading merchandising and packaging company focused on optimizing the retail supply chain. As Director of Marketing, Andersen's focus within the company involves brand development and management, strategic planning, and marketing communications.
During her time in the industry, she has seen the development and evolution of shopper marketing and the importance of getting it "right" in-store.  Prior to joining Menasha, Andersen spent time on the consumer products side of the industry, focusing on product development and product marketing within the housewares industry.
"Being recognized by P2PI among many deserving and successful women is a huge honor," Andersen said. "I'm thankful for the platform and opportunities Menasha has given me to grow professionally and make an impact in the field that I love."
A special reception was held in honor of this year's honorees at the 2016 Path to Purchase Expo (P2PX) on Wednesday, September 21, 5:30-7:30 p.m. at the Donald E. Stephens Convention Center in Chicago.
###
About Menasha
Menasha Packaging Company, LLC, based in Neenah, Wisconsin, is a subsidiary of Menasha Corporation and has approximately 3,300 employees at locations across North America. Menasha Packaging is a leading provider of graphic consumer packaging, merchandising solutions, corrugated packaging, food packaging, shipping containers, material handling solutions, and pack-out and fulfillment services.
With a network of design, sales service centers, corrugated and paperboard manufacturing plants, and fulfillment facilities located throughout North America, the company's mission is to help its customers protect, move, and promote their products better than anyone else. Visit its website at http://www.menasha.com.
About Menasha Corporation
Menasha Corporation is a leading corrugated and plastic packaging manufacturer and supply chain solutions provider specializing in retail merchandising packaging and displays, plastic reusable containers and pallets, protective packaging interiors, and packaging supply chain and fulfillment services. Menasha Corporation's products and services are used by major food, beverage, consumer products, healthcare, pharmaceutical, industrial and automotive companies. Established in 1849, Menasha Corporation is one of America's oldest privately held, family-owned manufacturing companies. Headquartered in Neenah, Wisconsin, the company employs approximately 5,600 employees in more than 100 facilities in North America, Europe, and Asia. For more information, visit http://www.menashacorporation.com.