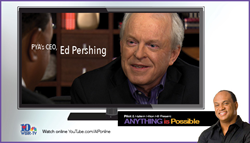 Hallerin's program provides a profound look into the lives of East Tennesseans who have applied passion to possibility to impact their communities.
Knoxville, TN (PRWEB) September 23, 2016
Ed Pershing, co-founder and CEO of PYA (Pershing Yoakley & Associates), recently was featured in Hallerin Hilton Hill's award-winning "Anything Is Possible," an acclaimed fixture of East Tennessee television noted for the depth of insight it elicits from the individuals it showcases. The two-part episode profiles Pershing, an Alcoa schools graduate and University of Tennessee alumnus who launched a consulting and accounting firm that has grown to become a Top 100 accounting and Top 20 healthcare consulting firm that serves clients in all 50 states.
Part 1 explores how Pershing's younger brother, Dennis Pershing (a.k.a. "Mr. P"), a 25-year public school educator and alternative school founder who suffered lifelong complications from surgery on a brain tumor, inspired him to see the possibilities in all things. Part 2 highlights how Pershing would explore possibilities in his own career—figuring out solutions that would help advance and positively impact the healthcare industry—while growing a three-person local company into a national healthcare consulting and accounting firm and five affiliate companies with more than 300 employees in Nashville, Atlanta, Tampa, and Kansas City offices. It closes with his thoughts on how one may measure success after witnessing the impact his brother had as a high school teacher.
"It was such an honor to be considered for these segments," said Pershing. "Hallerin's program provides a profound look into the lives of East Tennesseans who have applied passion to possibility to impact their communities. In sharing their stories, he inspires and encourages all of us to explore the power of possibility."
Pershing joins the ranks of such distinguished past guests as Tennessee Governor Bill Haslam, the late UT Lady Vols head basketball coach Pat Summitt, and publisher/entrepreneur Chris Whittle.
"PYA's mission and culture are unique," said Pershing. "Reflecting on our growth from a three-person company to one which positively impacts healthcare providers within all 50 states is humbling."
Part 1 and Part 2 of the program may be accessed online.
About PYA
For over three decades, PYA (Pershing Yoakley & Associates, P.C.), a national professional services firm providing management consulting and accounting, has helped its clients navigate and derive value amid complex challenges.
PYA's steadfast commitment to an unwavering client-centric culture has served the firm's clients well. PYA consistently is ranked among the Top 20 healthcare consulting firms in the U.S. by Modern Healthcare. PYA is also ranked 91st by INSIDE Public Accounting's "Top 100" Largest Accounting Firms. PYA affiliate companies offer clients world-class data analytics, professional real estate development and advisory resources, comprehensive claims audits for self-insured Fortune 500 companies, wealth management, and business transitions consulting.
PYA assists clients in all 50 states from offices in Atlanta, Kansas City, Knoxville, Nashville, and Tampa. For more information, please visit http://www.pyapc.com.