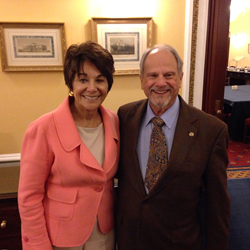 Our message is to emphasize to pediatricians, orthodontists, primary care professionals, psychologists, ENTs, and other healthcare professionals, as well as the general public... how simple it is to diagnose and treat
Washington, DC (PRWEB) September 24, 2016
Congresswoman Anna G. Eshoo (D-Calif.), Ranking Member of the Energy and Commerce Committee's Subcommittee on Communications and Technology will be an Honorary Co-Host with Dr. Elliott J. Alpher for a briefing on Tuesday, September 27th on a national health crisis: Undiagnosed Sleep and Airway Problems.
Dr. Alpher of The Alpher Center, and The Sleep and Breathing Academy have a team of clinical and academic experts to educate Members of Congress on the sleep and breathing disorders as well as airway health. He will also introduce micro recorder compliance in oral appliances, the evolution of oral devices including the government-chosen mechanism for treating Obstructive Sleep Apnea (OSA).
"We want to bring about a broader awareness on sleep and breathing disorders and this is a unified effort to educate the public and legislators. Only 15% of airway and sleep disorders are diagnosed," says Dr. Alpher.
NFL greats Eric Dickerson, Marcus Allen, Roy Green, and others will share personal experiences of being treated for sleep apnea.
Congresswoman Eshoo supports proposed rulemaking for screening, diagnosing, treating and tracking compliance of Obstructive Sleep Apnea (OSA) in individuals occupying sensitive positions in highway and rail transportation.
The Federal Motor Carrier Safety Administration (FMCSA) and Federal Railroad Administration (FRA) have requested data and information concerning the prevalence of moderate-to-severe obstructive sleep apnea (OSA) among individuals occupying safety sensitive positions in highway and rail transportation, and its potential consequences for the safety of rail and highway transportation.
Many mental functions are reduced when an individual experiences fatigue and sleepiness. It is estimated that 20% of accidents are caused by drivers' inattention and sleepiness, and the occurrence of drowsiness when driving being a major risk factor for dangerous accidents. Chronic excessive sleepiness and sleep-disordered breathing are common in commercial vehicles drivers.
"Our message is to emphasize to pediatricians, orthodontists, primary care professionals, psychologists, ENTs, and other healthcare professionals, as well as the general public of the emergency situations that exist, and how simple it is to diagnose and treat," commented Dr. Alpher.
Dr. Alpher, one of the District's most experienced specialists in sleep and jaw disorders, on staff at George Washington University Hospital and Georgetown University Hospital, has been known as a leader in the treatment of sleep disorders and jaw pain for 25 years. He has pioneered a conservative, non-invasive approach utilizing computerized and verifiable diagnostic methods to treat TMD, snoring and sleep apnea. This method of treatment has proven to be greatly successful and is highly regarded as the first method of choice by physicians and patients.
Dr. Alpher led a delegation to the Federal Motor Carrier Safety Administration (FMCSA) and Medical Advisory Board (MAB) to introduce the new technology of compliance chips in oral appliances to treat and monitor sleep apnea and snoring of truckers and other transportation personnel. He also earned the status of Diplomate of the American Board of Craniofacial Pain & Dental Sleep Medicine in October 2013 and is an immediate past board member.
Dr. Alpher is a life member of the American Dental Association and the District of Columbia Dental Society. He is also a board member and Diplomate to the Board of the American Sleep and Breathing Academy since March of 2014 and was initiated into The Hall of Fame in 2016. He is also a Contributor to The Huffington Post.
Click here to learn more about the Special Briefing.
Click here for more information on sleep disorders and airway breathing problems.
###