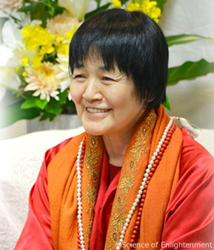 "Our body is a fabulous tool given to us by God." Yogmata Keiko Aikawa
New York, New York (PRWEB) October 05, 2016
As a continuum to the United Nations International Day of Yoga, the free event will host dignitaries, UN diplomats and venerated professionals in the medical and yoga communities such as Dada Maheshavarananda, Dr. Valdemar Prado, representatives from the US Yoga Organization & International Yoga Organization, and the first female Siddha Master, Yogmata Keiko Aikawa. Affectionately called 'the Mother of Yoga", Yogmata has deservedly received the title of Mahamandaleshswar (the Supreme Master of the Universe) from Juna Akara, the largest spiritual austerities association in India.
During the conference, Yoga and the UN Culture of Peace will present an emphasis on the philosophical and psychological influences of yoga, as well as the impact yoga has on spiritual, mental and physical overall balance and wellbeing. Benefits of yoga on universal harmony and peace in the world will be explored during discussions, along with scientific research proving the advantages of practicing yoga for healthier communities and individuals. Assessments of Eastern spiritual traditions in conjunction with Western modalities of yoga practices are topics of discussion for the conference as well. Yogmata Keiko Aikawa will be sharing her incredible knowledge and expertise in regards to alliance between yoga and amity universally.
Yogamata Keiko Aikawa is the first female and non-Indian Siddha Master, and one of the only two Siddha Masters who have made public appearances. A Siddha Master is a Himalayan saint who has achieved supreme Samadhi, a state of human consciousness that transcends physical and mental states to achieve oneness with the source of all creation -- an ascetic practice that is the most difficult of all, due to possibility of fatality.
Her foray into yoga and healthy living began in her teens as she developed an avid interest in meditation, natural remedies, health management and yoga. Yogamata's pursuit of healthy and balanced living guided her visits to Tibet, China, and India in her ardent pursuit of learning yoga and eastern medicines. She then expanded her knowledge into teaching and founded Keiko Aikawa Yoga and General Health Institute, effectively designing the Aikawa Yoga technique in the 70s, including Yoga Dance and Prandi Yoga.
To this day, Yogmata Keiko Aikawa has performed 18 public Samadhis, most notably at the Maha Kumbh Mela, a festival held once every 144 years and attended by over 70 million people, including prominent celebrities and figures such as His Holiness the Dalai Lama, Madonna, and Paul McCartney. She received the prestigious title of Mahamandaleshwar (the Supreme Master of the Universe) from Juna Akara, the largest spiritual austerities association in India in 2007 as recognition for her incredible achievements.
Confirmed attendees include LA Yoga, Yoga Vida, Bikram Yoga, Cosmopolitan, Huffington Post and V Magazine as prominent media outlets and established influencers in the yoga community.
Generously sponsored by The Permanent Mission of Nepal to the United Nations, Latin Maps, Aim Attitude, Dreams Animation, and CPR 123, the informative, free event concludes with a musical performance and Q&A. With more than 200 attendees anticipated, this forum promises to be an unforgettable occasion for yoga devotees of all ages and skill level.