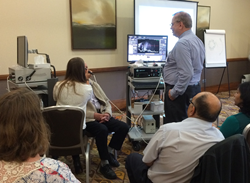 Harlow, Essex (PRWEB UK) 22 September 2016
Haag-Streit UK (HS-UK), the leading manufacturer and distributor of gold-standard optometry and ophthalmic equipment, is delighted to confirm that booking is now available for the upcoming Ellex 14th European Ultrasound Training Course.
The course will be held at the Sheraton Heathrow Hotel, London on Saturday 19th November 2016. Delegates will have the opportunity to learn about the fundamentals of high-resolution ophthalmic echography in a series of clinical lectures and hands-on workshops.
The event has an impressive expert faculty, and will be chaired by Hatem Atta, Consultant Ophthalmologist, NHS Grampian. Other confirmed speakers, include;

Andrzej Dmitriew, Consultant Ophthalmologist, Poznan University of Medical Sciences
Jens Folke Kiilgaard, Associate Professor & Senior Consultant Ophthalmologist, Rigshospitalet, Copenhagen
Tarek El-khashab, Ophthalmologist & Lead for Ophthalmic Ultrasound Services, Mid-Cheshire NHS Hospitals NHS Foundation Trust
David Sculfor, Consultant Optometrist, Stoke Mandeville Hospital
The programme includes lectures on 'Ultrasonography of Ocular Tumours' and 'Evaluation of Vitreoretinal Disorders'. As well as hands-on sessions which will demonstrate 'Posterior B-Scan examination' and 'Techniques for UBM examination.'
To book your place, please email Francois Checinski, Ellex at fchecinski(at)ellex(dot)com. The course costs £60 and includes lunch, however, an early bird rate of £45 is available for those who book before November 1st 2016.