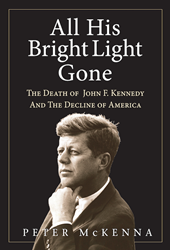 "It is no mark of health to be well-adjusted to a profoundly sick society." ...John F. Kennedy
(PRWEB) September 27, 2016
A controversial new book that says the United States went into decline after the death of John F. Kennedy is gaining critical acclaim.
The book, "All His Bright Light Gone: The Death of John F. Kennedy and the Decline of America," written by veteran journalist Peter McKenna, makes the following arguments:
*Kennedy, a student of history, understood that a democratic republic such as the United States will succeed only when an informed public works cooperatively with their elected representatives to promote the common good.
*Thus, as president, he heightened the nation's awareness of civic responsibility, urging the people to learn about important issues, respect government, and participate in its affairs. In the process, he created a model for the way this country should be governed.
*After Kennedy, less sophisticated presidents took the country in the opposite direction. They demonized government, saying that it interfered with the private sector's ability to generate wealth that would trickle down to the average citizen. This shattered the trust Kennedy had created between the people and the government that sustains them.
Mid-West Book Review called All His Bright Light Gone "impressively well researched and written, organized and presented…a compelling, informative, and thought-provoking read from beginning to end."
Bookpleasures.com said, "Mr. McKenna eloquently describes how Kennedy inspired us to admire men who use their minds to improve democracy and the human condition…but now in the U.S. we have on a daily basis insane rhetoric mouthed by ignorant individuals who pander to fear and narrow-minded convictions."
For more information, click the Youtube button on video above or visit allhisbrightlight.com. For a review copy, call Ms. L.P. Thomas at 718-305-2286 or send an email to lancer2(at)rcn(dot)com