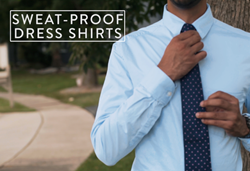 We're driven by perfection and that doesn't end in the design studio, it is vertically integrated into every part of our company.
Manhattan, NY (PRWEB) September 22, 2016
The World's First Sweat Proof Dress Shirt which promise to keep wearers dry and looking sharp at all times, is live on Kickstarter and raising funds to bring the project to life.
The World's First Sweat Proof Dress Shirt is an Italian made shirt crafted out of Certified Egyptian Cotton and is 100% sweat proof as well as liquid, odor, and stain resistant. The shirt promises to be the ultimate "go-to" shirt in every closet with a versatile look that allows users to go from the office to the bar.
"I thought of the sweat proof idea when I was in New York and walking around in my dress shirt and noticed how disgusting it felt and how bad it looks when the Sweat stains became apparent after a day of work," says founder and CEO Chirag Bansal. "As a an avid dancer it was especially hard to go out and have a good time dancing with someone especially when you were sweating all over and no one wanted to touch you haha."
After two years of research and development, the shirt is finally ready for production. The shirt has been designed with 2-Ply Egyptian cotton with a sweat proof lining fabric and a shirt that looks just as good as it does in casual streetwear as it does in formal settings while still remaining at an accessible price point for consumers. It also features a water resistant nanotechnology that won't fade with wash or dry clean cycles.
Chirag Bansal's patent-pending sweat-proof lining works by picking the sweat off the skin and moving it to the outer dry zone of the lining. From there, the sweat spreads out and evaporates into empty space between the lining and cotton fabric while preventing odor buildup. The Egyptian cotton fabric is also naturally odor resistant providing another advantage towards a clean and fresh look and feel.
The company hopes to be a leader in the fight against child labor with ethical manufacturing at every level in production while also reducing the impact on the environment. Producing the best dress shirt requires the most experienced tailors and latest technology to make professional comfortable and enjoyable to wear which Chirag Bansal does impeccably well. Elon Musk has had a huge influence on their Founder and the company hopes to be the "Telsa of Dress Shirts."
"At Chirag Bansal, our ethos is Dare to Be Human™ and this means not only pushing ourselves to be better people and designing better products but also developing a company that is Humane. We're driven by perfection and that doesn't end in the design studio, it is vertically integrated into every part of our company," adds Bansal. "We've got a lot of mentorship programs that will be implemented in the coming years in order to make this dream a reality."
The World's First Sweat Proof Dress Shirt is available in 3 different styles, 5 colors, and over 14 different sizes that are pre-tailored to fit customers. The project is currently live and available to support on Kickstarter: http://kck.st/2cLaa8d