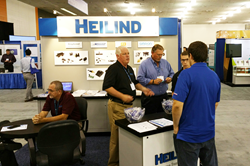 Wilmington, MA (PRWEB) September 22, 2016
Heilind Electronics, a leading global distributor of electronic components, is showcasing its sensors next week at Sensors Midwest – an annual trade show focusing on the latest sensing technology and solutions. Along with samples and related literature from its sensor manufacturers, the company will be performing live working demonstrations of its products.
Heilind's portfolio includes a diverse and growing selection of pressure, temperature, humidity, force, position, liquid level, proximity, and CO2 sensors from TE Connectivity (TE), Amphenol, Kavlico, Omron, and more recently, BEI. In particular, it offers one of the broadest selections in the market from TE Sensor Solutions -- for which a large portion of its orders are custom.
"We are happy to fill custom requests for our sensor products, even for smaller production quantities," says Glen MacGibbon, Heilind VP of Business Development - Sensors. "Our inventory and expertise have allowed us to expand beyond traditional solutions. We are continuing to introduce next-generation designs, as well as new suppliers to fill the gap in our current offerings."
Heilind caters to customers of all sizes, from startups to large multinational OEMs. The company will have representatives at booth #1106 for the duration of the show, which will be held from 9/27 through 9/28 at the Donald E. Stephens Convention Center in Rosemont, IL.
About Heilind Electronics
Founded in 1974, Heilind Electronics, Inc. (http://www.heilind.com/http://www.heilindasia.com) is one of the world's leading distributors of connectors, relays, sensors, switches, thermal management and circuit protection products, terminal blocks, wire and cable, wiring accessories, and insulation and identification products. Heilind has locations throughout the U.S., Canada, Mexico, Brazil, Germany, Singapore, Hong Kong, and China. Follow Heilind on Facebook at facebook.com/Heilind and on Twitter at twitter.com/Heilind.