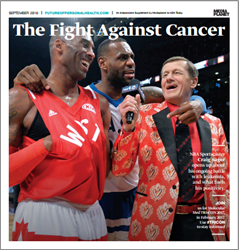 New York, NY (PRWEB) September 23, 2016
Mediaplanet's newest campaign, "The Fight Against Cancer," hits newsstands today. It features an exclusive interview with NBA legend Craig Sager, who stands as living proof that attitude and determination can combine into the most remarkable of achievements. "The Fight Against Cancer" sheds light on the advancements and innovations being made in cancer care, which is bringing increasing numbers of cancer patients to more effective treatments at a faster rate than ever before.
Providing hope through cutting-edge technology and research, this campaign highlights how scientific initiatives—more specifically, how the use of molecular diagnostics and precision medicine can make more efficient and personalized treatment possible.
The print component of "The Fight Against Cancer" is distributed within USA Today on September 23, with a circulation of approximately 450,000 copies and an estimated readership of 1.3 million. The digital component is distributed nationally, through a vast social media strategy, and across a network of top news sites and partner outlets. To explore the digital version of the campaign, click here.
This campaign was made possible with the support of the Craig Sager, ASCO, American Society for Radiation Oncology, National Cancer Institute, Molecular Medicine TRI-CON 2017, Personalized Medicine Coalition, Stand Up To Cancer, Fight Colorectal Cancer, The Leukemia & Lymphoma Society, Ambry Genetics, IHadCancer, NantWorks, Epigenomics, Lilly Oncology, Pacific Edge Diagnostics, Guardant Health, IBA, Vision RT, Accuray, Agendia, Genomic Expression, Fred Hutchinson Cancer Research Center, INSYS Therapeutic and many more.
About Mediaplanet
Mediaplanet is the leading independent publisher of content-marketing campaigns covering a variety of topics and industries. We turn consumer interest into action by providing readers with motivational editorial, pairing it with relevant advertisers and distributing it within top newspapers and online platforms around the world.
Press Contact
Molly Messersmith
Molly.Messersmith(at)Mediaplanet(dot)com
646- 979- 2834
Harika Manne
Harika.Manne(at)Mediaplanet(dot)com
646-755-7951