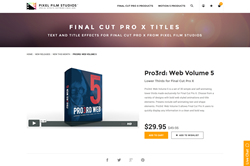 With 30 stylish self-animating web themed lower thirds that are completely customizable, Pro3rd Web Volume 5 is an asset to any video project
Aliso Viejo, California (PRWEB) September 24, 2016
"With 30 stylish self-animating web themed lower thirds that are completely customizable, Pro3rd Web Volume 5 is an asset to any video project," said Christina Austin - CEO of Pixel Film Studios.
Pro3rd Web Volume 5 has 30 self-animating lower thirds are applicable to any and all types of media. Choose from various styles with colorful and straightforward title elements such as boxes, lines, and circles. Each preset contains a left aligned and right aligned layout. Just drag any preset over the media, stylize the text, and modify title elements by using the inspector window on the right.
This Plugin features controls that make it easy for editors to adjust the presets as they see fit. Editors can adjust the opacity, width, and scale of any presets to their liking with a few simple clicks. On-screen controls help users alter the overall scale, rotation and position of the presets with ease.
Pro3rd Web Volume 5 presets provide FCPX users with bold and creative web styled lower thirds to easily display information. Editors can quickly and easily add an animated lower third to any media inside Final Cut Pro X. Adjusting text and element animations is simple with easy to use sliders that help display any information in a clean and bold way.
Each Pro3rd Web Volume 5 preset is made to work seamlessly any photos or video in Final Cut Pro X. Simply select any of the aligned left or aligned right presets and click and drag it onto the timeline. Editors can adjust the duration of each preset by clicking and dragging the edge of the selected preset. Text and elements can be adjusted with easy to use controls found in the inspector window. Pro3rd Web Volume 5 can add a professional look to any project.
Established in 2006, Aliso Viejo, California-based Pixel Film Studios is an innovative developer of visual effects tools for the post-production and broadcast community. Their products are integrated with popular non-linear editing and compositing products from Apple FCPX. Apple, the Apple logo, Mac OS X, and Macintosh are registered trademarks of Apple Inc. in the U.S. and/or other countries. All other trademarks and trade names are the property of their respective owners.