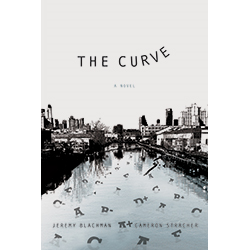 Chicago, Il (PRWEB) September 26, 2016
A satire on legal education, "The Curve: A Novel," by Jeremy Blachman and Cameron Stracher, tells the story of students at Manhattan Law School, a decrepit fictional institution on the edge of the toxic Gowanus Canal in Brooklyn. The students are geographically-challenged and mad as hell—in debt up to their eyeballs and fighting over the few legal jobs left for those who are far outside the Ivy League.
Rave reviews on amazon about this hilarious book from Ankerwycke include:
"An insightful, outlandish, funny look at a diploma mill law school. So well written-so comical."
"Scathing and Entertaining Satire of the Contemporary Law School Paradigm."
"The Curve is fast-paced, laugh-out-loud funny, and conveys piercing observations about what passes for education in some places today and the role of big law in the economy."
According to Variety, the potential television series follows an attorney who decides to leave his white shoe law firm and give back by teaching, but he finds his idealism challenged when he signs on to work at the worst academic institution in the country — Manhattan Law School. While attempting to navigate the murky waters of for-profit academia, he strives to give the best education he can to a motley crew of students.
"The Curve" co-author Jeremy Blachman will co-write the pilot script with executive producer and writer Jeff Rake, creator of "The Mysteries of Laura." Blachman will also serve as a co-executive producer on the project.
"The Curve: A Novel" is available now on amazon.com in hardcover or electronic version.
Ankerwycke, launched in December 2014, is the consumer-oriented imprint of the American Bar Association, one of the largest voluntary professional membership organizations in the world with more than 400,000 members. In 1215, Magna Carta was sealed underneath the ancient Ankerwycke Yew tree, starting the process which led to rule by constitutional law — in effect, giving rights and the law to the people. Today, the ABA's Ankerwycke line of books continues to bring the law to the people. With legal fiction, true crime books, popular legal histories, public policy handbooks, and prescriptive guides to current legal and business issues, Ankerwycke is a contemporary and innovative line of books for everyone from a trusted and vested authority. Follow Ankerwycke on Twitter @AnkerwyckeBooks.