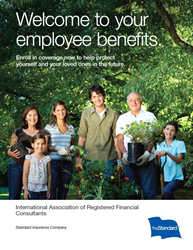 I think that everyone should look at this offering closely because of the guaranteed issue provision...Jerry Michael, Michael Insurance Planning
Middletown, OH (PRWEB) September 22, 2016
The International Association of Registered Financial Consultants (IARFC) announces a partner program with The Standard Insurance Company and Michael Insurance Planning Company to offer Life, AD&D and LTD for members and their families. Eligibility is based on current membership with the IARFC.
Effective immediately, key benefits include: highly affordable premiums with core coverage; guaranteed issue/no medical or financial underwriting; competitive premiums designed for consultants; travel benefits and employee assistance programs.
For new members, these plans are available up to 30 days after joining the Association with no medical form required – guaranteed issue up to $250,000. For current members and those who go past the 30 days, applicants must provide medical history. There is no physical required, but the questionnaire is in depth and then sent to underwriting to make a determination. Medical questionnaires vary from state to state. This is a substantial benefit to provide for staff associates.
"We feel this is an excellent option for those members who do not have access to large group insurance rates," related Chairman H. Stephen Bailey. "Protection against life's emergencies and illnesses is essential for everyone – client and consultant alike. I especially encourage new members to meet the 30 day enrollment requirement and sign up immediately."
The Standard Insurance Company has been dedicated to helping people achieve financial wellbeing and peace of mind for more than 100 years. Standard was chosen after a competitive bid process. It is out of the ordinary as most companies do more background checking and do not offer an open enrollment or their open enrollment is once a year.
Those who sign up will be working with the Michael Insurance Planning. Owner Jerry Michael states "I think that everyone should look at this offering closely because of the guaranteed issue provision." The company is committed to building a mutually beneficial partnership with clients to meet their needs and manage their benefits by the most effective and competitive means possible.
For specific links to state medical forms or general information on this Association benefit, contact Michael Insurance Planning at 800.932.4075 or ja(at)michaelinsurance(dot)com.