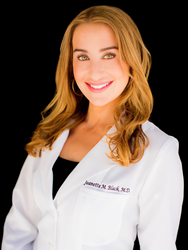 I am excited to join Skin Care & Laser Physicians of Beverly Hills. We offer patients innovative treatments that are both safe and effective.
Beverly Hills, California (PRWEB) September 23, 2016
The physician-run Skin Care & Laser Physicians of Beverly Hills dermatology practice is growing, giving Los Angeles-area patients another option for their cosmetic skin care needs. Dr. Jeanette Black, who has worked as a fellow at the practice for the past year, just signed on to officially become the business's third physician, starting full time in September.
Dr. Black is a board-certified dermatologist and a fellowship-trained cosmetic dermatologic surgeon. After graduating from Pepperdine University with a Bachelor of Science degree, she received her medical degree from Tulane University School of Medicine. Dr. Black completed an internal medicine internship and a dermatology residency program at Tulane University School of Medicine, after which she joined Skin Care & Laser Physicians of Beverly Hills to complete a cosmetic dermatologic surgery fellowship program. She has co-authored numerous medical journal articles and textbook publications and has been involved in research studies at the forefront of cosmetic dermatology. Dr. Black is board-certified by the American Board of Dermatology and maintains active memberships with the American Academy of Dermatology and the American Society for Dermatologic Surgery.
She joins Dr. Derek Jones and Dr. Naissan Wesley to form a trio of physicians offering general and cosmetic dermatology to men and women in Southern California. Together, they have been emphasizing the benefits of a physician-only practice, where only doctors—not nurses or physician assistants—administer the treatments for patients. This includes consultations, injections of BOTOX® Cosmetic and dermal fillers, laser and light-based procedures, Kybella® treatments, Coolsculpting® procedures, follow-up visits, and more.
The idea is that fellowship-trained cosmetic dermatologists offer the highest level of skin care available for patients, considering their extensive education and training.
Skin Care & Laser Physicians of Beverly Hills offers a range of cosmetic dermatology treatments, including numerous wrinkle-smoothing injectables that Dr. Jones had a hand in investigating during their FDA trials. He served as the lead investigator in the Voluma® study that led to the approval of the dermal filler intended for restoring lost volume to the apple of the cheeks.
To learn more about Dr. Jeanette Black, Dr. Derek Jones, Dr. Naissan Wesley, and Skin Care & Laser Physicians of Beverly Hills' dermatology options, visit skincareandlaser.com, call 310-246-0495, or visit the office at 9201 W. Sunset Blvd., Suite 602, Los Angeles, CA 90069.