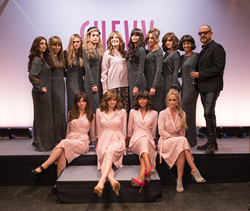 New York, NY (PRWEB) September 23, 2016
Shevy, the premier wig company for over 25 years, hosted a memorable runway show to introduce their revolutionary new Luxe wig collection. Coordinated by Birch Events, the exclusive event on Wednesday 9/25 at 501 Union in Brooklyn, featured a magnificent runway, 24 unique looks and a breathtaking showcase of the finest European hair wigs in the world.
Guests traveled far and wide to attend the event, which featured renowned fashion influencers, including hairstylists, makeup artists and fashion bloggers. Attendees enjoyed contemporary cuisine from chef Aviva of Gourmand At Large and complimentary cocktails.
Shevy's salon works closely with L'Oréal to provide the best in hair care. L'Oréal hair professionals showed their support by joining Shevy for the evening and providing hair products in courtesy "swag bags" given to attendees.
Revolutionary in its design, the Shevy Luxe represents the ultimate in European hair, demonstrating our 25 years of excellence and uncompromised craftsmanship. Each strand of untreated hair is carefully selected and hand-fused by our team of experts into a natural looking, versatile, everlasting beauty. Our unique process creates a breathable custom fitting wig that seamlessly molds to fit the wearer for added comfort. Featuring a full palette of multidimensional colors, lengths, textures and endless styling possibilities, the Shevy Luxe epitomizes luxury at its finest.
For the past 25 years, Shevy has been the leader in the wig industry, offering the highest quality European hair wigs. A meticulous selection process ensures each Shevy is fashioned from the finest European hair in the world, producing a natural glow and sophisticated character. An experienced team of warm and attentive hairstylists work tirelessly to create a premier wig shopping experience.
In a world where fashion trends develop at a rapid pace, Shevy remains at the forefront of today's progressive times.