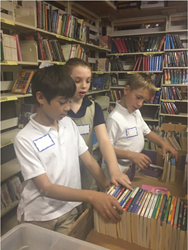 Basking Ridge, NJ (PRWEB) September 23, 2016
Students from Mendham Country Day School in Basking Ridge, NJ spent several hours at the Visiting Nurse Association (VNA) of Somerset Hills bi-annual Rummage Sale, learning first-hand about the importance and enjoyment of community service. After taking a tour of the sale, the hard-working and enthusiastic students assisted VNA Rummage Sale volunteers sorting and organizing donated merchandise in the sporting goods, housewares, costume and book departments.
Proceeds from the sale help the VNA give all families equal access to the agency's full range of home health and hospice care services, regardless of their ability to pay. Funds raised also ensure that all members of the community can benefit from important and innovative programs uncompensated by Medicare, Medicaid or private insurance.
The VNA Fall Rummage Sale will be held on Friday, Saturday and Sunday, October 7, 8 and 9 at the Far Hills Fairgrounds, located at the corner of US Route 202 and Peapack Road in Far Hills, New Jersey. The sale is open 9:30 a.m. until 3:30 p.m. on Friday and Saturday, and 12:30 p.m. to 3:30 p.m. on Sunday, rain or shine. More information about the sale is available at http://www.visitingnurse.org/news-and-events/rummage.
About VNA of Somerset Hills
The Visiting Nurse Association of Somerset Hills and its subsidiaries provide individuals and families with comprehensive, high quality, cost-effective home and community healthcare services, regardless of ability to pay, using partnerships where appropriate. The VNA is a charitable, tax-exempt home health agency and hospice certified by Medicare, accredited by the Community Health Accreditation Program and licensed by the New Jersey Department of Health and Senior Services. Credentials include recognition as a 2015 HomeCare™ Elite Agency.
For more information about the organization:
Web: http://www.visitingnurse.org
Facebook: http://www.facebook.com/VNAofsomersethills
Linkedin: http://www.linkedin.com/company/vna-of-somerset-hills