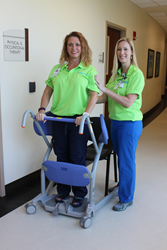 With this equipment, we can help make the daily process of moving patients safer, easier and more comfortable for everyone involved
Tampa, FL (PRWEB) September 22, 2016
The average nurse lifts 1.8 tons per day according to the American Nursing Association. With this in mind, Florida Hospital Wesley Chapel is moving forward with a new initiative to reduce employee and patient injuries caused by manual lifting. Beginning September 22, the hospital's staff will have access to five different types of mechanical lifting equipment provided by Diligent. Each is designed to provide patients with extra security and comfort while simultaneously reducing strain on clinicians' muscles as they move patients with various conditions and levels of mobility.
"The decision to eliminate manual patient lifting is an example of Florida Hospital Wesley Chapel's commitment to stay on the front edge of both patient and employee safety," said Mary Brady, Chief Nursing Officer. "With this equipment, we can help make the daily process of moving patients safer, easier and more comfortable for everyone involved."
Information from the Bureau of Labor and Statistics reveals that patient handling results in more employee injuries per year than construction work, mining and other physically-taxing careers. Studies by Diligent show that using mechanical lifting equipment can reduce these incidents by up to 70 percent.
"This is an exciting transition for all of us because it is another instance where we are implementing new technology to make our hospital the best it can be," said Brady.
About Florida Hospital Wesley Chapel
Florida Hospital Wesley Chapel is an 83 all-private bed hospital. Built from the ground-up, this full-service community hospital features expert staff, specialty design and state-of-the art technology built for better patient care. The hospital features state of the art imaging and surgical equipment, much of it first in the region. Services include an emergency department, cardiac care, vascular surgery, orthopedics and sports medicine, women's services and gynecology, obstetrics, urology and nephrology, outpatient imaging, outpatient physical and occupational therapy, The Center for Women's Health and a free-standing Health & Wellness Center. The hospital's Wellness Plaza also houses offices for primary care and specialty physicians. Florida Hospital Wesley Chapel is currently under construction with a major expansion that will add more inpatient rooms, emergency rooms and surgical suites. Construction began in summer of 2015 and is scheduled to be completed in December of 2016. Part of the Adventist Health System, Florida Hospital is a leading, not-for-profit health network comprised of 26 hospitals throughout the state. For more information, please visit http://www.FHWesleyChapel.org.