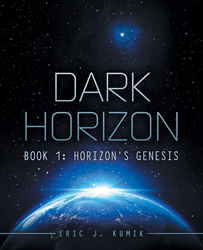 I wanted to create a new type of science fiction with a strong message.
Las Vegas, Nevada (PRWEB) September 23, 2016
When the chips are down, sometimes all you need is a wild card.
No help is coming, no one can back down and there is no way home. Misfit troop, Star Team Seven must face some of their worst nightmares as they explore a mysterious planet following The Gray War. "Dark Horizon" is an exciting and accessible science fiction tale featuring characters with real problems faced with a monumental threat to the safety of the universe.
"I wanted to create a new type of science fiction with a strong message," author Eric Kumik said. "'Dark Horizon' has several key themes including the importance of family, the sting of loss and the euphoria of victory, and being proud of what makes you who you are."
Kumik fell in love with science fiction as a child. During college he had the opportunity to work for the Walt Disney Company where he saw dreams turn into reality. Kumik combined his passion for travel, writing and science fiction to develop a fantasy world that everyone can enjoy.
"Not every story ends the way you want. There's going to be times when it's you and you alone against the world but you have to keep going," Kumik said. "The feeling of victory can never truly be appreciated without knowing what loss feels like."
Dark Horizon
By Eric Kumik
ISBN: 9781491799604
Available in softcover, e-book
Available on Amazon, Barnes & Noble and iUniverse
About the author
Eric J. Kumik received a bachelor's degree in scientific and technical communications from Bowing Green State University. Kumik is an avid fan of travel and currently works as a flight attendant. Kumik is working on the next installment in the Dark Horizon series. He and his fiancé, Debbie, currently reside in Las Vegas, Nevada.
# # #
**For Immediate Release**
For review copies or interview requests, contact:
Craig Cainkar
317-602-7137
ccainkar(at)bohlsengroup(dot)com