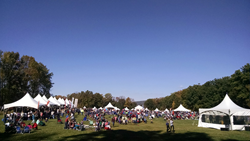 Morristown, NJ (PRWEB) September 23, 2016
The harvest season will be celebrated in grand style when the Garden State Wine Growers Association (GSWGA) holds its Jersey Fresh Grand Harvest Wine Festival at Fosterfields Living Historical Farm in Morristown, Saturday and Sunday, October 1 and 2nd.
Seventeen leading GSWGA wineries will be on hand for a weekend of great wine tasting, live music, craft vendors, gourmet food trucks and kid's activities and the chance to experience and learn about Jersey Fresh agricultural products. The festival will be open each day beginning at 11:30 am. Wine sampling will commence at noon and run until 4:30 pm each day and attendees will be able to purchase wine until 5 pm.
Advance tickets are available for $25 + fee through September 29 and then are $30 through the event. Those under 21 are free. Designated drivers receive entry for $5.00 at the gate. Admission includes a souvenir wine glass that can be used to sample the wines. Ticket information and a festival guide can be found by visiting http://www.newjerseywines.com
A percentage of all tickets sales will benefit the Seeing Eye, a philanthropic organization whose mission is to enhance the independence, dignity, and self-confidence of blind people through the use of Seeing Eye®dogs. The Seeing Eye is headquartered in Morristown.
With the early fall foliage providing the northern New Jersey backdrop, visitors to the Jersey Fresh Grand Harvest Wine Festival will enjoy breathtaking scenery, great entertainment from two outstanding bands and most importantly, award-winning New jersey wines.
Participating wineries are: Cava Winery; Chestnut Run Farm; Coda Rossa Winery; DiMatteo Vineyards; Four Sisters Winery; Heritage Vineyards; Hopewell Valley Vineyards; Old York Cellars; Plagido's Winery; Sharrott Winery; Tomasello Winery; Unionville Vineyard; Valenzano Winery; Ventimiglia Vineyards; Villa Milagro Vineyards; Villari Vineyards and Wagonhouse Winery.
"This promises to be another vintage harvest for the state's wineries as dry hot weather conditions have allowed New Jersey vines to prosper. Many wineries are reporting strong yields from the crops harvested thus far," said Tom Cosentino, Executive Director of the Garden State Wine Growers Association. "We look forward to providing patrons to the Jersey Fresh Grand Harvest a great fall experience."
While those attending the Jersey Fresh Grand Harvest will not be able to sample any product made from the grapes harvested in 2016 at least for a couple of years, visitors will be able to sample over 150 wines from recent vintages. In addition, artisan food and craft vendors will have their wares available, allowing patrons to peruse specialty foods such as handmade pastas, sauces, spices, oils, vinegars, and more. The event is family friendly with a crafts activity tent for kids to enjoy as well.
Musical entertainment will be headlined by the Burt Conrad on Saturday and the Mystery Machine on Sunday. Burt Conrad is a Grammy winning singer, songwriter, guitarist, keyboardist, arranger, engineer and producer. He began his professional career at the ripe age of 13 (then Burt Szerlip) forming his soul band Mocha. Mocha played throughout New Jersey in dance clubs, high school dances and proms and outdoor festivals (Burt's parents drove him to the gigs). At 15 years old, the Four Seasons brought Mocha into Vantone Studios to record 3 Burt Conrad penned songs. Mystery Machine is one of the latest and greatest cover bands to hit the Tri-State area. Seating ten members and spanning sixty years of great tunes, Mystery Machine is everything you want in live music.