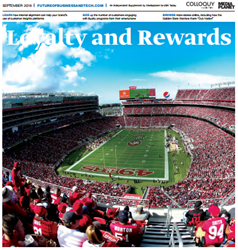 New York, NY (PRWEB) September 23, 2016
Mediaplanet today announces distribution of the latest edition of "Loyalty & Rewards," a cross-platform campaign educating readers on the strategies behind the over 3.3 billion loyalty programs available throughout all industries in the United States. With such a variety to choose from, consumers are looking to personalize in order to fully capitalize on the programs that suit them. This campaign also explores the challenges brands are facing, as they aim to stay relevant and competitive in a crowded industry, highlighting the solutions they should implement to stay ahead in 2016.
"Indeed, customer experience goes way beyond just customer service, of course, and beyond even the most complex loyalty and customer engagement efforts," explains Dennis Armbruster, Editor-At-Large at COLLOQUY and vice president of LoyaltyOne Consulting. He goes on to say, "It encompasses the sum of every interaction a customer has with your company – on every channel, at every moment of every day."
The campaign also features an exclusive an exclusive panel of experts from front offices. Representatives of the Chicago Cubs, San Francisco 49ers, New York Jets and Seattle Sounders all weigh in on the successful ways they have kept their fans engaged. "For the past three seasons we've offered a loyalty program to our season ticket members," says Mikaela Purvis, director of fan relations for the Seattle Sounders. "The foundation of this program has been providing exclusive experiences on the pitch for fans before, during and after the match. It's a priority for us to find ways for fans to authentically connect with players on match day and the loyalty program has been a tool to support those efforts."
The print component of "Loyalty & Rewards" is distributed within USA Today on September 23, with a circulation of approximately 250,000 copies and an estimated readership of 750,000. The digital component is distributed nationally, through a vast social media strategy, and across a network of top news sites and partner outlets. To explore the digital version of the campaign, click here.
This campaign was made possible with the support of Barclaycard, Best Western, Chicago Cubs, Choice Hotels, Citibank, COLLOQUY, Connexions Loyalty, New York Jets, Priority Pass, San Francisco 49ers, Seattle Sounders and many more.
About Mediaplanet
Mediaplanet is the leading independent publisher of content-marketing campaigns covering a variety of topics and industries. We turn consumer interest into action by providing readers with motivational editorial, pairing it with relevant advertisers, and distributing it within top newspapers and online platforms around the world.
Contact:
Nick Barba;
nicholas.barba(at)mediaplanet(dot)com
646-755-7966