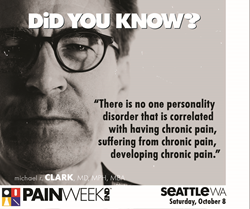 Washington State has become ground-zero in this second opioid crisis, with its regulatory zealots creating a climate of severe opiophobia that has resulted in needless olioanalgesia
Montclair, NJ (PRWEB) September 23, 2016
Following the success of the annual PAINWeek National Conference, the 2016 PAINWeekEnd (PWE) Regional Conference series resumes this fall on October 8 at the Seattle Marriott Bellevue, located at 200 110th Avenue NE. The full-day program will provide busy clinicians and allied healthcare practitioners with 6.0 hours of relevant, practical instruction in the management of chronic pain.
Drastic changes in Washington's medical marijuana laws may close dispensaries and leave patients in pain. Washington state made one of the first major moves to place limits on opioid prescriptions. How can practitioners keep up to date with changing healthcare issues? Attend PAINWeekEnd Seattle.
Michael E. Schatman, PhD, CPE, DASPE, commented, "In the United States, we are facing two opioid crises. The first is well-publicized, and pertains to the myriad overdose deaths in which prescription opioids are involved, even if opioids themselves are not the only 'culprit.' As a result of many years of indiscriminate prescribing and a disingenuous and knee-jerk reaction by antiopioid zealots, the second opioid crisis has arisen: millions of patients for whom there is no viable option other than opioid analgesia are now unable to get any relief." Dr. Schatman, who will be presenting at PAINWeekEnd, is the Executive Director of the Foundation for Ethics in Pain Care in Bellevue. He continued, "Washington State has become ground-zero in this second opioid crisis, with its regulatory zealots creating a climate of severe opiophobia that has resulted in needless olioanalgesia. Our hope is that the upcoming PAINWeekEnd in Seattle will present an opportunity for providers to learn how to prescribe safely and effectively, and that the program's thought-leader experts will help allay some of their fears regarding discriminate prescribing in what has become a needlessly hostile climate."
By attending PAINWeekEnd Seattle, participants can receive 6.0 CE/CME credit hours as they enhance their skills in medication risk evaluation and mitigation, pain assessment and diagnosis, and delivery of individualized multimodal treatment. Washington State Medical Quality Assurance Commission requirements include MD AMA PRA 1: 120 CME hours every 4 years; MD CME: 200 CME hours every 4 years. In addition, Medical Marijuana Consultants must complete a minimum of 10 hours of continuing education each year to renew their certificate. Course topics at the Seattle PWE include chronic pain assessment; the role of advanced practice providers in chronic pain; pain pathophysiology unraveled; when does acute pain become chronic; pain diagnostics: clinical pearls to improve common tests for pain; and evidence based approaches to chronic pain management: time to reconsider the benefit of technophilism. In addition, there will be commercially supported activities addressing a range of product, disease state, and medical information topics.
To see the complete agenda and more information about this or other PAINWeekEnd Regional Conference, go to painweek.org.
The online registration fee for this PAINWeekEnd Conference is $129. PAINWeekEnd registrants are further offered the opportunity to register for the 2017 PAINWeek National Conference, September 4-8, in Las Vegas, for $129 off the current online published price.
PAINWeekEnd is provided by Global Education Group.