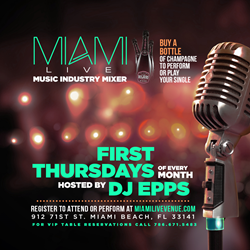 Miami, FL (PRWEB) September 23, 2016
Miami Live Venue announces the newest open mic showcase, First Thursdays with DJ Epps, for local independent musicians and artists. Located at 912 71st St. Miami Beach, FL 33141, Miami Live is centrally located and accessible to all artists throughout the South Florida region.
Local Musicians can perform at Miami LIVE Venue during one of their Open Mic events. Miami LIVE invites the whole music industry out every First Thursday for the Miami LIVE Music Industry Mixer. Attendees can meet some of the local record labels, producers, djs, music executives and more.
Sign Up To Perform Here: http://miamilivevenue.com/perform/
Miami LIVE is an exclusive live music venue with a bar and recording studio in Miami Beach. The venue is a versatile rental space for any type of event, from concerts, to birthdays, to corporate parties accommodating most needs in a 3,800 sq. ft. space.
For Booking Information visit: http://miamilivevenue.com/booking/