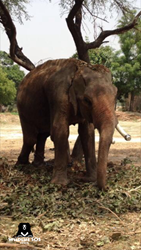 "We hope that this breakthrough in attaining Mohan's long-overdue freedom sets a precedent of zero tolerance for illegal ownership of elephants." – Wildlife SOS Cofounder Kartick Satyanarayan
Mathura, Uttar Pradesh, India (PRWEB) September 23, 2016
Wednesday, September 22: A banner proclaiming "Welcome Home Mohan" greeted an emaciated elephant as he was led gingerly down the ramp of a rescue vehicle and onto the soft soil of the Elephant Conservation and Care Centre. The event effectively ended a more than two-year struggle to rescue the 55-year-old elephant from an environment so abusive it could have cost him his life.
"It is with immense joy that we welcomed Mohan to the sanctuary," WSOS cofounder Geeta Seshamani said in a statement to the Indian press. "His freedom has been a long-time coming, and we are so grateful to everyone who stood strong through this long and often disheartening and dangerous fight for his freedom."
Animal welfare activists have long called Mohan the "world's unluckiest elephant." Anyone familiar with his plight would agree: More than 50 years of abuse and neglect at the hands of his owners have left him physically and psychologically ragged. Repeated attempts by wildlife officials and conservation groups WSOS to rescue Mohan have been stymied by the former owner, who has shuttled Mohan off in the dark of night to secret locations to avoid detection. And when WSOS and Indian government authorities were able to locate Mohan, hostile mobs have confronted them to prevent the elephant's rescue. Finally, an almost endless array of legal proceedings and delays—nearly 20 of them—made it seem as if Mohan's fate would forever be tied up in litigation, even as he withered away physically. Because of Mohan's dire physical condition, the fight to save the world's unluckiest elephant was one against time as much as anything else. And the victory was nearly thwarted again last month.
"At first the court denied us the ability to care for Mohan at our own facilities," says Wildlife SOS cofounder Kartick Satyanarayan. "But after the government health report [issued July 23, 2016, by the Government Veterinary Hospital in Delhi] confirmed he was in desperate need of expert veterinary care…the courts revised their orders. Now Mohan will get the love and attention of a dedicated team of vets and keepers who can ensure he gets the care he needs."
Mohan's bleak history most likely began about 50 years ago when, as a young calf, poachers separated him from his family for auction and a life of servitude. He spent the next five decades as a "begging elephant," chained-up and working long hours for small change in crowded city streets, or hauling heavy loads on his back and tusks in the scorching heat. Mohan's desperate condition first caught WSOS's attention in early 2014, and plans were made to rescue him then. After numerous attempts were thwarted, the organization started a petition which eventually garnered more than 200,000 signatures (https://www.change.org/p/mr-amrit-tripathi-ias-expedite-mohan-s-freedom). Although it failed to move the owner, Mohan was now receiving international attention. A legal battle ensued. And then another. And again. According to Holidog Times, "Each time, there were more and more delays: the judge orders yet another veterinary examination, the lawyers have an accident, a local politician is opposed to the court's decision. [There were] no less than 18 legal proceedings, one after another" (http://www.holidogtimes.com/after-50-years-in-chains-the-unluckiest-elephant-in-the-world-is-finally-free/#gs.RY7uAzQ).
Finally, in September 2016, a court recognized Mohan's physical condition and handed him over to WOS for permanent care. According to the Times of India, "a sympathetic bench at the Lucknow High Court took note of Mohan's deteriorating health condition and the years of unimaginable cruelty meted out to him by his owners, and finally issued a directive that the elephant be shifted forthwith to the Elephant Care Center in Mathura run by Wildlife SOS" (http://timesofindia.indiatimes.com/city/agra/Worlds-unluckiest-elephant-finally-walks-free/articleshow/54464963.cms).
According to WSOS, Mohan will now receive ongoing professional veterinary care, a stable diet, and, eventually, the company of other elephants. Mohan will also have plenty of room to roam—something the 55-year-old elephant has likely never known—with naturally vegetated open fields and water pools. Mohan's days of back-breaking labor, neglect, and suffering are finally over, but with physical issues ranging from much apparent psychological and physical scarring, a parasite-compromised digestive system, and severe liver problems, his journey is not.
"This has been an incredibly difficult fight," says Nikki Sharp, executive director of the WSOS United States branch. "But most of the hard work still lies ahead in teaching Mohan how to be a real elephant. We don't feel like we can give him all those years back that he lost. But we can give him a great life at our sanctuary. We can give him joy and happiness—something I think he rarely experienced before."