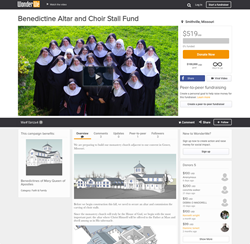 With the help of WonderWe, the Benedictines have been able to take on the massive project and goal of building a new church without taking on any debt....
Kansas City, MO (PRWEB) September 27, 2016
WonderWe, an online platform for fundraising, focuses its campaigns on efforts revolving around faith, family and friends. Unlike other crowdfunding sites, the organization doesn't shy away from issues like pro-life efforts, or from churches or conservative organizations. In fact, WonderWe can be an effective tool in Catholic initiatives, for example, the fundraising campaign of the Benedictines of Mary, Queen of Apostles, who recently began raising funds to build a new church in their small town of Gower, Missouri.
Mother Cecilia, the church's Prioress, said they are receiving a high number of vocations, as well as many more guests coming for prayer. She expressed the need for a new building to replace the smaller, temporary one they've been in for about five years.
The Benedictines have an ultimate goal of raising $5 million for their new building and have several different routes they've taken to raise funds, like selling music CDs they've created. Utilizing WonderWe, they've focused efforts on raising money, specifically, for an altar and choir stall. The goal for this is $100,000.
WonderWe encourages other Catholic organizations, churches and missions to look into crowdfunding when the need for financial assistance arises. They suggest starting fundraising campaigns that promote the Corporal Works of Mercy which can help feed the hungry and give drink to the thirsty; shelter the homeless and clothe the naked; visit the sick and prisoners, give alms to the poor; and provide for family and friends in need. Catholic charities could raise funds for relief services like support for refugees and immigrants. Catholic schools could raise money for scholarships for underprivileged students and classroom projects. Parishes could receive donations for general operating costs, catechesis and retreats for parishioners. These are just a few of the many areas that WonderWe can help fund.
Starting an online WonderWe campaign is easy and free of charge, and can be launched in as little as 10 minutes. WonderWe's advanced technology features include peer-to-peer crowdfunding, a function that allows individuals to launch mini campaigns through the larger fundraiser. For example, on the Benedictines' WonderWe page, one supporter has started an individual fundraiser to help with a percentage of the larger financial goal. WonderWe's other unique features include the ability to enlist the help of several administrators to run the campaign, an organization portal and much more.
"With the help of WonderWe, the Benedictines have been able to take on the massive project and goal of building a new church without taking on any debt," Mother Cecilia said. "I encourage other individuals and organizations to follow the Benedictines' lead and help their cause by raising money in a smart, innovative and fresh way with the resources found on WonderWe."