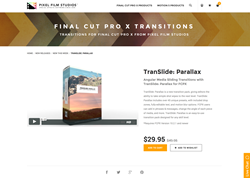 TranSlide Parallax comes with over 45 unique presets with drop zones, fully editable text, and motion blur options that allow editors to create new stylistic transitions
Aliso Viejo, California (PRWEB) September 27, 2016
"TranSlide Parallax comes with over 45 unique presets with drop zones, fully editable text, and motion blur options that allow editors to create new stylistic transitions," said Christina Austin - CEO of Pixel Film Studios.
TranSlide Parallax contains over 45 different presets to choose from. Each variation contains color and border controls, with some containing editable text and Drop Zones for alternate media. Every preset contains a version with added motion blur for added realism. TranSlide Parallax is a Final Cut Pro X exclusive.
TranSlide Parallax is a unique set of transitions that add a new twist to simple shot wipes. Each transition has unique angle controls, allowing the viewer to give the illusion of spinning and depth as one shot wipes into the next. Each transition is self-animating, saving the user time while giving many professional level tools for revealing the next clip.
TranSlide Parallax includes editable text, to add in phrases and messages between each shot. Users can choose between multiple styles including shapes that mask the text, filling each letter with the underlying media, or simple floating animated text that wipes by with each movement.
TranSlide Parallax is a set of Drag & Drop transitions that are applied to the editors timeline between the desired clips. Each transition can be stretched to any duration and can be modified to the users style. TranSlide Parallax is a universal transition pack designed for any skill level editor in FCPX.
Established in 2006, Aliso Viejo, California-based Pixel Film Studios is an innovative developer of visual effects tools for the post-production and broadcast community. Their products are integrated with popular non-linear editing and compositing products from Apple FCPX. Apple, the Apple logo, Mac OS X, and Macintosh are registered trademarks of Apple Inc. in the U.S. and/or other countries. All other trademarks and trade names are the property of their respective owners.