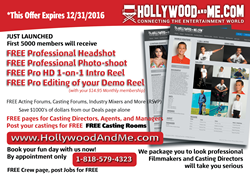 Casting Now! Actors submit your page to us to be considered for this role!
Los Angeles California (PRWEB) October 08, 2016
For years people have come to Los Angeles from all over the world to break into the entertainment industry, and for years they have lacked a "success compass" on how to do so. That is until Bridgegate Films CEO and entrepreneur, Anthony G. Cohen, stepped in and gave them one. Like Moses parting the Red Sea, Cohen has provided a clear path to the information coveted most by actors and filmmakers - contacts. And it's all at your fingertips. While social networking via the Internet is not a new concept, it is a revolutionary way of getting started in the industry. The name of this new resource is HollywoodAndMe.com. A labor of love for Cohen, Hollywood and Me was created not only as a networking resource, but also as a means to safely guide friends and family to solid opportunities in the entertainment industry. There are countless horror stories about scams, evil agents and people, out to make a buck at the expense of others.
Mr. Cohen knew it was time that rising talent had a place that they could connect with confidence.
The site break down is simple: it hosts talent's information, reels, photos, personal1-on-1 video, contact info, management/agents, and biography all in one page. From now on a talent can send one link to anyone with a simple push of a button. This eliminates having to wait for reels or photos to upload, no more attachments and all previous work is sent in less than one second! Each talent has a personal page on HollywoodAndMe.com that is hosted on a site where over 500,000 established industry professionals can take a peek and hand-select talent out of the crowd. It's not just a place to send info to film agencies; it also hosts a network of events so a talent can mingle and network with the most important people to get the job. Hollywoodandme.com offers classes taught by icons and legends like, Vincent Chase, and links to services, such as free acting, casting Forums and self-defense classes by their master martial arts expert. Talents can finally afford headshots, portfolio shoots, reels and classes in a way never before possible, by top photographers and directors at a fraction of a cost without breaking the bank. (Offering a Free Headshot, Professional 3 Outfit Photo-shoot, a HD 1-on-1 Intro Reel, and Professional Edit of you Demo Reel up to 2 minutes, for the first 5,000 Members.)
HollywoodAndMe.com is a one-stop shop for all filmmaking needs, many of which are at no cost to users. It also acts as an interactive how-to guide. The site walks through critical do's and don'ts of the business, and answers many of the most frequently asked questions by people that are starting out such as: how to get an agent, choose the right photographer, what to send, and who to send it to.
If all of that weren't enough, HollywoodAndMe.com has gone one step further than any other resource of this nature. HollywoodAndMe.com will host its own networking events and red carpet galas every month; star-studded award shows to showcase talent from within the most gifted of the HollywoodAndMe.com family.
Recently Mr. Cohen was on set for the film he wrote, produced and directed "The Sex trip", a romantic comedy that if you missed the premiere you really missed out as it was a magnificent event. A man of many talents, Mr. Cohen is also working on his next film being casted through HollywoodAndme.com,in the highly anticipated Sympathy for the Devil, an action thriller set against the Los Angeles gang scene. Cohen, which to my experience is a very humble and amazingly likable person, spoke candidly about his desire to help the next generation of Hollywood, "I want the next generation to get a better break than I did".
For all of the latest up-to-date information about Anthony G. Cohen, newest releases and breaking Hollywood hubbub, please visit: http://www.HollywoodAndMe.com Remember, you're just a click away from greatness. Get signed up, Look professional, and get discovered!