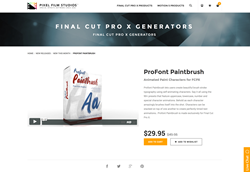 ProFont Paintbrush allows FCPX users to create beautiful brush stroke typography using self-animating characters with absolute ease and complete customization
Aliso Viejo, California (PRWEB) September 28, 2016
"ProFont Paintbrush allows FCPX users to create beautiful brush stroke typography using self-animating characters with absolute ease and complete customization," said Christina Austin - CEO of Pixel Film Studios.
ProFont Paintbrush gives users over 90 character selections from every category. Every letter in upper and lowercase, numbers 0 through 9 and every special character imaginable are available for use in Final Cut Pro X. ProFont Paintbrush lets users create text designs and animations like never before.
ProFont Paintbrush provides users with a simplified set of controls that give users all the tools they need without the extra hassle. Placement controls, color changes, and shadow controls are all the editor needs to create beautiful paintbrush animations. The included on-screen controls allow users to perfectly position, scale and rotate characters within a shot.
ProFont Paintbrush's Compound Tool is a tool for users to easily reposition all the characters in a compound clip at once. Using the Compound Tool is easy, first create a compound clip with all characters that are to be effected. Then, apply the Compound Tool Effect to the Compound Clip by dragging and dropping it onto the clip. This tool allows editors to change the position, scale and rotations, depth of field and more of all included characters at the same time inside FCPX.
Add the Grid Tool as a title layer above scenes to overlay a grid above all clips in the timeline. This extremely helpful tool makes it easy to align text effectively to a grid so that characters are spaced and positioned correctly within the scene. Controls like grid color, size, and opacity can be altered to meet the requirements of any scene.
Established in 2006, Aliso Viejo, California-based Pixel Film Studios is an innovative developer of visual effects tools for the post-production and broadcast community. Their products are integrated with popular non-linear editing and compositing products from Apple FCPX. Apple, the Apple logo, Mac OS X, and Macintosh are registered trademarks of Apple Inc. in the U.S. and/or other countries. All other trademarks and trade names are the property of their respective owners.