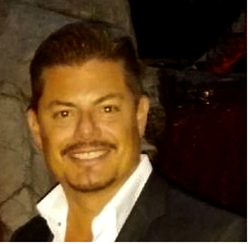 "Carousel is making significant progress nationally and gaining acknowledgment as a leader in delivering cloud-based solutions and managed services to enterprise customers,"said Lopez
Exeter, RI (PRWEB) September 23, 2016
Carousel Industries, a leader in communication and network technologies, professional and managed services, and cloud solutions, today announced that Marc Lopez has joined the company as VP of Sales, Western Region, effective immediately. Lopez is an accomplished sales leader who brings 15 years' experience in competitive and emerging technology markets, including networking and global telecommunications. Reporting directly to Carousel's Chief Revenue Officer, James Marsh, Lopez is responsible for sales strategy and expanding Carousel's business in the Western U.S. and is based in Carousel's Bay Area office in Walnut Creek.
Prior to joining Carousel, Lopez served as VP of Sales at PGi, a global provider of cloud-based collaboration software and services. Lopez helped grow PGi into a $567 million business with 50,000 customers. Prior to PGi, Lopez was Senior Director of Sales, Content and Large Enterprise Markets at Level 3, a leading communications solution provider.
"As Carousel continues to scale its operations to match growing customer demand for our cloud solutions and managed services, and following two significant acquisitions, attracting additional seasoned sales leadership talent has become a top priority," said James Marsh. "Marc's expertise in cloud collaboration services, unified communication and mobility, coupled with his impressive track record in building and motivating highly effective teams to grow a global business, positions him perfectly to help us exceed our revenue goals in in the Western Region."
"Carousel is making significant progress nationally and gaining acknowledgment as a leader in delivering cloud-based solutions and managed services to enterprise customers," said Lopez. "I am very excited about joining the company and helping it build upon recent momentum. I look forward to working with our sales team to expand our west coast customer base."
About Carousel Industries
Carousel Industries is a recognized leader in helping organizations evolve the way they communicate and orchestrate the flow of information throughout their networks.  Carousel enables clients to connect and collaborate the way modern IT users demand and advance from their current network infrastructure to meet tomorrow's standards. With deep expertise across a vast portfolio of communication, network, and security technologies, Carousel is able to design, implement, and support solutions tailored to meet the unique needs of each customer. By offering professional and managed services with flexible deployments in the cloud, Carousel ensures clients achieve agility and utilize technologies in the way most effective for their business.
Since 1992 Carousel has grown an average of 30% per year and has over 6,000 customers, including 35 of the Fortune 100. Carousel has been recognized by multiple publications and industry consortiums as a top technology integrator, managed service provider, and cloud solution provider – including seven listings in the Inc. 500/5000. Headquartered in Exeter, RI, Carousel has over 1,000 employees working in 30 locations across the U.S.