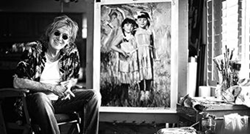 (PRWEB) September 23, 2016
Legendary painter and photographer, Dick Zimmerman http://www.dickzimmerman.com/ who has created portraits for Tom Cruise, Michael Jackson's "Thriller", John Travolta and was personally commissioned by Salvador Dali to create his 50th wedding anniversary portrait with his wife, Gala, has signed a partnership with AT Management Group. AT Management Group is interested in creating a brand for Dick Zimmerman. Zimmerman wants to change the world's point of view about Art- to support, respect and expand admiration for art on planet earth.
"At just 7 years old I started my passion for painting and the arts, and I hope to help spread an appreciation for it to the world," says Dick Zimmerman. His viewpoint is that "the implementation of Art shapes the future of this planet."
AT Management Group, founded in 2006, delivers business consulting, including many projects like RB TV, HighMind Video, and now The Power of Art.
This partnership will create 30 international TV Shows titled 'What is Art' with Dick Zimmerman, with a one on one with celebrities (artists) from different categories of the Visual and Performing arts. His upcoming books of Zimmerman's iconic celebrity photographs titled, '101 very private moments,' and his "Five Days with Dali" and a documentary with Zimmerman with a surprise concept are some of the projects to come out of this partnership.
Starting in the U.S., Moscow, and European countries, this will turn into a worldwide endeavor starting in September 2016.
Together AT Management Group and Dick Zimmerman would like to change the world's point of view regarding respect about Art and Artists- to support and expand their admiration for all artists and to magnify the positive and aesthetic impact that will encourage people to improve themselves and their understanding about the lives of the Artist.