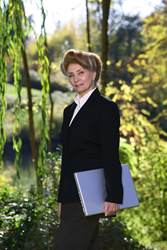 Grants Pass, OR (PRWEB) September 23, 2016
Water Life Science® advocate Sharon Kleyne, host of The Sharon Kleyne Hour Power of Water radio program, recently welcomed as her radio guests Bill and Delora Risser, founders of Cascade Mountain Spring Water, and their son, Wyatt, the company's CEO. On the September 19th program, Kleyne and the trio discussed the virtue of natural spring drinking water and how it compares to tap water and purified water.
Kleyne, the founder of Bio-Logic Aqua® Research Water Life Science®, also asked that her listeners pay attention to the fact that water research should be the number one focus for all current and future infrastructure. "Please keep in mind," said Kleyne, "that our organs, skin, blood and bones are mostly water. The eyes are 99% water; the brain is 80-85% water; the liver is 80% water; blood is 50% water; bones are 20% water, and so on. All of us begin life in a water environment—a mother's water-womb. When we emerge from that womb, the water vapor in the atmosphere keeps us alive." Kleyne has for more than thirty years researched water and focused on supplementing the human body's loss of water through evaporation.
The Rissers, relative newcomers to the vast, global business of bottled water, returned to Delora's hometown of Butte Falls, Oregon, where they had a small water store. The attraction, besides the natural beauty of Butte Falls, was a natural spring pouring out of the hillside and down the mountain. It is there, in one discreet building, that Cascade Mountain Spring Water is bottled in attractive glass containers with no plastic parts. "Our bottles are 100% recyclable," said Wyatt, who also credited his father, "the water guru," for getting the company going. "My father got the facility up to speed and running," Wyatt said, "and his collection of antique water bottles gave us the idea to use glass-only containers for our water."
When Kleyne asked what made the water special, Delora pointed to its PH value of 7.8—ideal for healthy human drinking water. "Water is always trying to get back to its natural state," Wyatt added, "and our water is just about as natural as any water can be. It's cleaner by far than regular tap water, yet it retains the essential nutrients that purified water boils away."
Admiring the bottle itself, Kleyne asked about its distinctive, etched angel wings. "It's an homage to the history of Butte Falls and the region," said Wyatt. "Every year," Wyatt continued, "a snow patch taking the shape of an angel's wings conspicuously remains on the side of Mt. McLoughlin until late summer. To Native Americans, the wings were the sign that it was time for berry-picking and harvesting."
Kleyne encouraged listeners to seek out and try Cascade Mountain Spring Water. She also reminded everyone that we live together on planet earth as a family, and that our lives depend on water. "In the beginning, earth was surrounded by water vapor, which eventually fell to earth as rain," said Kleyne. "The water came down with the rhythm of the solar system, and it came down with the breath of life. There is nothing more magical than water; and life thanks to water."