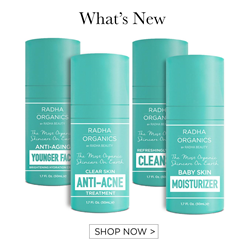 The Radha Organics Skin Care Line was created with the intention of elevating the natural skin care market. It was a success.
New York, NY (PRWEB) September 26, 2016
Today, Radha Beauty launched their second collection of skin care product; the most organic skin care on earth. Radha Organics is an all natural, organic skin care line made only of essential oils, plant extracts, and fruit & plant butters. The collection may be purchased at https://www.RadhaBeauty.com.
All four products in the collection are paraben-free, preservative-free and made only of ingredients that are easy to pronounce and safe for all skin types.
Anti-Aging Younger Face Brightening Hydration Cream
This all natural formula helps to reduce fine lines, wrinkles and age spots. It repairs damaged skin cells, brightens the complexion and reduces the appearance of hyperpigmentation.
Baby Skin Moisturizer
An all natural nourishing lotion with a hypo-allergenic, pH balanced formula that hydrates and softens skin, leaving it baby-soft, smooth and radiant.
Clear Skin Anti-Acne Treatment
An all natural acne remedy and acne scar treatment that is fortified with pure botanical ingredients like thyme, holy basil, coleus and willow bark. This anti-acne treatment effectively treats acne blemishes while improving the skin's tone and texture.
Refreshingly Clean Cleanser
A versatile, all-in-one, organic facial cleanser with botanical ingredients and plant extracts. This cleanser gives pores a deep cleaning to remove unsightly blackheads. It detoxifies, hydrates and moisturizes the skin.
Radha Organics is preserved in two different ways. First, the strong microbial properties found in the essential oils are clinically proven to prevent spoilage. Additionally, the Radha Organics bottle utilizes the cutting-edge technology of an airless pump. Both ensure the integrity of each product.
Radha Organics is available for purchase at https://www.RadhaBeauty.com.
About Radha Beauty
Radha Beauty was founded by Rebekah Letch in 2014. To the credit of the exceptional quality of its products, it quickly climbed the charts to become the Number One Selling Beauty and Essential Oils brand on Amazon.com.
In 2015, Radha Beauty grossed $6.7M and is set to generate over $50M by the close of 2016.
Contact Information
Anson Gilbert
Director of Marketing
anson(at)radhabeauty(dot)com