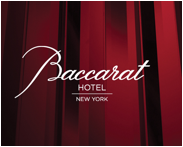 We are so appreciative for this wonderful honor. Thank you! Regan L. Grusy, Chief of Staff, The Costume Institute
New York, NY (PRWEB) October 26, 2016
Nominees and guests convened to attend the live announcement event of the 2016 Global Fine Art Awards Finalists at the Baccarat Hotel, the precursor to the 2016 Award Ceremony and Gala.
GFAA President and CEO Judy Holm, accompanied by Advisory Board members and partners from Baccarat Hotel, welcomed their guests last night for a live presentation of this year's award Finalists. U.S. Trust Senior Vice President Danielle Amato-Milligan, GFAA 2016 Gala Co-Chair states, "As a new Advisory Board member of GFAA, I am honored to be part of the growth and evolution of this important initiative that creates a broader audience for art and education, the first in the world of its kind."
GFAA celebrates the best curated fine art and design exhibitions worldwide. After a year-long review of over 2,000 exhibitions and public installations, 33 Finalists were selected from the official list of 78 Nominees.
This year's Finalists feature strong representation from New York – including three from the Metropolitan Museum of Art

Maholy-Nagy: Future Present, Solomon R. Guggenheim Museum
Human Interests: Portraits, Whitney Museum of American Art
Roberto Burle Marx: Brazilian Modernist, The Jewish Museum
Atmosphere for Enjoyment: Harry Bertoia's Environment for Sound, Museum of Arts and Design
Manus x Machina: Fashion in an Age of Technology; and Pergamon and the Hellenistic Kingdoms of the Ancient World, Metropolitan Museum of Art (Met Fifth Avenue) and Diane Arbus: In the Beginning; The Metropolitan Museum of Art (Met Breuer)
GFAA judges will select the winners from this slate of Finalists for 11 awards: Contemporary and Post-War (solo and group), Impressionist and Modern; Renaissance (solo and group), Baroque, Old Masters and Dynasties (solo and group), Ancient Art, Photography, Design, Fringe/Alternative and Public or Outdoor Installation. "Youniversal", the twelfth award, recognizes the most popular nominee and is selected by public voting on the GFAA website.
Voting for the Youniversal Award, presented by Vastari, begins today on the GFAA website, and concludes on Sunday November 13.
The culmination of the year-long process to discover the best curated art and design exhibitions will take place on Saturday, February 11, 2017 with the celebration of all Nominees and the presentation of the Winners of the 2016 Global Fine Art Awards (GFAA). The black-tie gala will take place at the historic and resplendent National Arts Club, on Gramercy Park in New York City.
GFAA Advisory Board member and Gala Committee Chair, Eleanor Goldhar, states "I look forward to engaging a significant group of art enthusiasts to assist in elevating the awareness of our program around the world. After two successful years in Miami, the third annual GFAA Award Ceremony debuts in NYC on Saturday, February 11, 2017."
The Gala Committee is currently in formation and Gala tickets are now available to the public. Tickets may be purchased online through the Fiscal Sponsor of the GFAA program – Fractured Atlas.
About the GFAA Program
The GFAA program honors innovation and excellence in exhibition design, historical context, educational value, and public appeal. The program's mission is to develop interest and passion for fine art, and to further its educational role in society.
GFAA is the first annual program ever created to recognize the best curated art and design exhibitions and installations worldwide. This program includes exhibitions in museums, galleries, art fairs and biennials, as well as public installations.
The Vision
GFAA has as its primary purpose to elevate the importance and relevancy of fine art in the world today: economically, socially, and culturally. GFAA endeavors to be world renowned as the premier art and design award program. Over time, the number of awards will grow to encompass more art categories, and awards for curators, artists and other individuals.
The Process
A broad set of criteria is utilized to research and assess the prospective nominees, with continuous review of over 50 sources of print and online art editorial and critiques. Through these sources, more than 200 museums and 2,000 exhibitions are vetted during the annual art research as well as personalized assessments based on exhibition viewing.
In addition to the research-based nominations, GFAA accepts open calls from museums, biennials, fairs, galleries and other art organizations. Individual patrons may nominate their favorite exhibitions as well. The timeframe for eligibility this year was for exhibitions and installations opening between Aug 1, 2015 and Jul 31, 2016. The basic criteria for eligibility is that each nominated exhibit must be curated.
The Nominating Committee reviews the slate prepared by the Art Research Committee, and presents their findings and final approvals to the Judges. The Judges modify and select the final slate of Nominees, then vote on the Finalists and Winners.
Public Voting
Nominees and winners for the eleven awards are selected by a panel of expert judges. Another integral aspect of the GFAA program is to engage the general public, and include their voice in the program results. Members of the general public vote online for their favorite nominee on the GFAA website. The most popular exhibition wins the final award -Youniversal, presented by Vastari.
About Vastari
Based in London, founded in 2012, Vastari Exhibitions Network is an online platform where museums can source privately owned pieces for their forthcoming shows, list and exchange exhibitions with other institutional and private venues around the globe.
Vastari's interface and networking tools make it easier for these museums to communicate with the private sector directly, to tour exhibitions globally and to share and exchange knowledge.
Institutional curators have access to a database of items in private collections and can contact the owners directly to request them. Vastari Institutional Members can access over 700,000 works of art in private hands and browse through hundreds of exhibitions that can tour to their venues.
Conversely, collectors can digitise their pieces and anonymously share them with museums, as well as accessing a list of requests published by museums and to which they can proactively respond.
Members consist of around 700 private collectors and over 3,000 curators and 600 museums, including 6 of the top 10 most visited museums worldwide.
Membership is a flat yearly fee for museums and individuals to access the services.
GFAA Team
Judy Holm - President and CEO, Renee Farina, Hogan Fritz, Felipe Gehrke, Ivonn Goihman, Danny Gonzalez, Betsie Piussan, Nancy Richmond; (Interns) Jenna Agres , Dahee Lim, Stephanie Wong She Wei
GFAA Advisory Board
Danielle Amato-Milligan, Tiffany Chestler, Bonnie Clearwater, David M. Kraemer, Eleanor Goldhar, Stephen Kimmerling, Patricia Lannes, Christian Gaines, Peter Hansen, Gail Lord, Salwa Mikdadi, Ty Murphy, Gina Quan, Terence Riley, Gernot Schussmann, Hedva Ser, Lawrence M. Shindell, Peter Trippi, Alex Wuchterl, Juan Carlos Zaldivar
GFAA Judges
Dr. Barbara Aust-Wegemund, Dr. James M. Bradburne, Gina Costa, Dr. Joe Lin-Hill, Dean Phelus;
(Emeritus) Cathy Leff, Peter Trippi
Media, Arts, Educational & Cultural Partners
The American Alliance of Museums (AAM), other important arts organizations, educational and media partners including: Association of Art Museum Directors (AAMD), Frieze London and Frieze Masters, Traveling Exhibits Network, Vastari, Miami-Dade County Department of Cultural Affairs, the Miami-Dade County Mayor and Board of County Commissioners, Fractured Atlas, Fine Art Connoisseur Magazine, Family Office Elite Magazine, Nob Hill Gazette, SocialMiami.com and World Red Eye.
Corporate Sponsors
ARIS Title Insurance Corporation, Baccarat Hotel, Billionaire Italian Couture, Carillon Hotel and Resort, Crowell & Moring LLP, Galerie LeLong, Galleria Farina, Goihman Group of Douglas Elliman, Hanson Organic Vodka, Kwittken PR, Pryor Cashman LLP, Quivira Winery, Tui Lifestyle
GFAA is a sponsored project of Fractured Atlas, a non-profit arts service organization. Contributions for the charitable purpose of GFAA must be payable to "Fractured Atlas" only. All contributions are tax-deductible to the extent permitted by law. Fractured Atlas, a 501(c)(3) public charity, provides a fiscal sponsorship program to help arts organizations raise money from charitable sources.