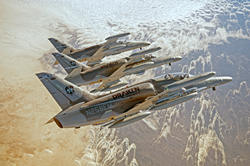 This exercise demonstrated Draken's enormous capacity to meet and exceed growing requirements within this unique industry.
Lakeland, FL (PRWEB) September 27, 2016
In a first for the rapidly emerging commercial air services industry, Draken International executed a large force training exercise in support of the Japanese Defense Force at White Sands Missile Range in New Mexico. Draken vastly exceeded all expectations with the successful deployment of 18 tactical fighter aircraft to Holloman AFB from September 9-17th. Throughout the operation, Draken flawlessly generated 170 missions to include a 16 turn 16 daily flight schedule. The aircraft included Draken's radar-equipped Douglas A-4 Skyhawks and the debut of brand new Aero Vodochody L-159E Advanced Light Combat Aircraft (ALCA). This increase in flying volume is an industry first and is a true testament to Draken's commitment to meeting the rapidly growing demand for credible, capable and cost-effective commercial air services.
With aircraft based throughout the country at multiple operating detachments, Draken deployed its fighter assets to Alamogordo, New Mexico beginning September 9th and staged operations out of Holloman AFB. These dedicated missions were flown over the White Sands Missile Range in support of Japanese Chu-SAM KAI testing, a medium range Surface-to-Air Missile similar to the US Army's Patriot system. This significant test required multiple flights at various altitudes and airspeeds, to include supersonic profiles, in an effort to overwhelm the Chu-SAM KAI system. Draken developed intricate plans utilizing simultaneous attack profiles of 16 fighter aircraft to challenge and test the effectiveness of the Chu-SAM KAI system.
"I want to thank the US Army and the Japanese Defense Force for allowing Draken the privilege of participating in such a significant operation. Draken would also like to thank SA-TECH for this opportunity and is looking forward to working together on future projects. This exercise demonstrated Draken's enormous capacity to meet and exceed growing requirements within this unique industry. We see our fleet of fighter aircraft not just as credible and affordable platforms, but as a continuously expanding array of threat-representative capabilities," states Sean Gustafson, Draken's Vice President of Business Development. "While our aircraft remain the only fighter jets in the industry with modern fire-control radars and other 4th generation capabilities, we will continue to modernize to ensure our fleet meets the training requirements of the future. This includes new technology such as passive IR sensors, AESA radars, Helmet Cueing systems and an open architecture datalink network. Draken has continuously redefined the standard within our industry and we do not intend to slow down with that effort anytime soon."
This was the first operational use of Draken's newest fighter aircraft, the Aero Vodochody L-159E ALCA (Advanced Light Combat Aircraft). Three of the virtually brand-new fighter jets flew in support of the overall test with impressive results, especially with the radar capability and reliability. The Draken maintenance organization was especially thrilled with the performance of the L-159 ALCA aircraft. Jeff Spann, Director of Maintenance at Draken, commented on the operation as well as the new aircraft. "First, I really want to congratulate the Japanese Defense Force on the success of their Chu-SAM KAI system. I also have to acknowledge the amazing efforts of the professional Draken maintenance team that achieved such impressive results. Generating a 16 turn 16 flight schedule of fighter jets is no easy task. The fact that it was done every day, without missing a line is something I have never seen throughout my 23+ year military career. In regards to the L-159E ALCA's, the maintenance requirements, reliability and performance of the sensor systems are exactly what you would expect with a new aircraft. We are confident our customers at the USAF Weapons School and Red Flag will be very pleased with the capabilities and especially with the modern radar system. The first three of our 21 L-159E deliveries have integrated nicely into the fleet and we look forward to the rest arriving in the immediate future."
With all 18 Draken fighter aircraft parked on the 49th Wing ramp, the airmen from Holloman AFB provided an invaluable service with utmost professionalism. Saint Lehtinen, Director of Business Development and project lead for the exercise stated, "The men and women of Holloman Air Base were truly exceptional during our visit. Our hat is off to the 49th Wing and their amazing team of airmen and civilians supporting the Holloman Mission and specifically this testing at WSMR. Without their efforts and support, this exercise would not have been such a resounding success. Thank you to the entire team!"