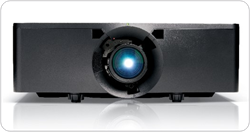 We're very pleased to showcase our latest cutting-edge 1DLP and 3LCD projection systems to Indian audiences for the first time at this year's InfoComm India.
Mumbai, India (PRWEB) September 23, 2016
Christie®, a leader in creating and delivering the world's best visual and audio experiences, showcased the new Christie HS Series 1DLP® laser phosphor projector, and AP Series 3LCD projector at InfoComm India 2016, September 12-14.
This marks the debut of Christie's latest 1DLP projector featuring laser phosphor illumination, as well as the 3LCD single-lamp projector series, in the Indian market since their official introductions earlier this year. At Booth B1, visitors can catch the HS Series in action and experience bright and vibrant images projected on a miniature house model. They can also check out the affordable yet accomplished AP Series on show in the static display zone.
Rajesh Patkar, Deputy General Manager, Christie India, said, "We're very pleased to showcase our latest cutting-edge 1DLP and 3LCD projection systems to Indian audiences for the first time at this year's InfoComm India. The HS Series represents a breakthrough in industry standards of projection by achieving high-precision images with its compact, super quiet operation and consistent performance around the clock. The AP Series, on the other hand, combines the quality Christie is famous for with an exceptional value-add proposition with its rich feature set and low cost of ownership. We are confident that both projector models will be well-received by users across India for various applications."
Christie HS Series – Bold and bright like never before
The HS series offers the world's brightest 1DLP laser phosphor illumination boasting up to 13,500 lumens with Christie BoldColor Technology for richer, more vivid colors, and a 3X color wheel speed. It is available in two versions – the Christie D13HD-HS and Christie D13WU-HS that deliver HD and WUXGA resolutions respectively.
Christie BoldColor Technology offers a premium viewing experience, taking color accuracy and image quality to the next level. Images are bold and realistic at high brightness levels, resulting in richer, more appealing visual content and meeting the Rec. 709 standard for high-definition color reproduction. The Christie HS Series is ideal for rental stagers, corporations, hotels, public spaces and entertainment venues.
The HS Series joins a spectacular lineup of 1DLP laser phosphor projectors, including the Christie Captiva and GS Series that help users avoid the cost of lamp replacements and the maintenance associated with lamp-based projectors. The long-life and worry-free characteristics of laser phosphor projectors make them ideal for high-use settings like boardrooms, classrooms, cinemas and location-based entertainment.
Christie AP Series – Delivering performance and exceptional value
Designed for easy classroom, boardroom or meeting space installation, the Christie AP Series comprises two feature-rich, 5,000-lumen-class projectors showcasing Christie's renowned level of performance in a compact, easy-to-use and value-added package. The Christie LW502 and Christie LWU502 offer a long lamp life of up to 6,000 hours, integrated audio, and HDBaseT (HDBT) single-cable connectivity for both digital signal and control.
With the WXGA-resolution LW502 delivering 5,000:1 and WUXGA-resolution LWU502 offering up to 10,000:1 contrast ratio, images are crisp and clear, ensuring impactful, worry-free presentations in any setting. In addition, the Christie AP Series includes edge blending, warping, DICOM simulation and an optional wireless adapter for connecting to a LAN and showing presentations from a remote computer. It is also equipped with a comprehensive list of I/O connections for the management of a variety of integration environments and content sources.
The Christie LW502 and Christie LWU502 further strengthen Christie's 3LCD projector lineup – led by the powerful D Series – by offering performance, power and affordability to users who do not wish to overstretch their budgets. The AP Series is backed by a three-year warranty and Christie's industry-leading customer support.
For more information on our event, join our LinkedIn Discussion Group, Christie @ InfoComm India 2016
About Christie
Christie Digital Systems USA, Inc. is a global visual and audio technologies company and is a wholly-owned subsidiary of Ushio, Inc., Japan, (JP:6925). Consistently setting the standards by being the first to market some of the world's most advanced projectors and complete system displays, Christie is recognized as one of the most innovative visual technology companies in the world. From retail displays to Hollywood, mission critical command centers to classrooms and training simulators, Christie display solutions and projectors capture the attention of audiences around the world with dynamic and stunning images. http://www.christiedigital.com.
Follow us:
Twitter.com/christiedigital
Facebook.com/christiedigital
Linkedin.com/company/christie-digital-systems
Youtube.com/christiedigital
Instagram.com/christiedigital
#christiedigital
"Christie" is a trademark of Christie Digital Systems USA, Inc., registered in the United States of America and certain other countries.