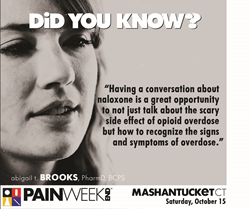 the new law [Public Act 16-43] also represents significant changes for those who have been taking opioids on a chronic basis for legitimate pain.
Montclair, NJ (PRWEB) September 27, 2016
Following the success of the annual PAINWeek National Conference, the 2016 PAINWeekEnd (PWE) Regional Conference series resumes this fall on October 15 at Foxwoods Resorts & Casino, 350 Trolley Line Blvd. The full-day program will provide busy clinicians and allied healthcare practitioners with 6.0 hours of relevant, practical instruction in the management of chronic pain.
Connecticut is in the midst of a heroin and opiate crisis. There were 729 drug overdose deaths in 2015; in 2016, almost 900. A large part of the problem is fentanyl and the fact that it's 50 times stronger than heroin. How can practitioners keep up to date with changing healthcare issues?
Abigail T. Brooks, PharmD, BCPS, and a presenter at PWE Mashantucket, commented, "As a practitioner in pain management, I recognize that change is all around us—from how opioids are prescribed, to how patients are screened or monitored while on opioids, and to even how opioids are dispensed to patients. The March release of the CDC Guideline for Prescribing Opioids for Chronic Pain was a catalyst of change for many." Dr. Brooks is a clinical pharmacy specialist in pain management at the West Palm Beach VAMC in Florida. She continued, "In my research and reading about opioid use in Connecticut, the focus seems to be on a comprehensive bill signed into law by the Governor in May 2016 which became effective in June 2016. While this law seeks to limit the amount of opioids prescribed to an individual and put naloxone into the hands of both first responders and chronic pain patients to combat opioid addiction, the law also represents significant changes for those who have been taking opioids on a chronic basis for legitimate pain. Attending PAINWeekEND will allow providers practicing in the state of Connecticut to hear and learn more about both opioid and nonopioid treatment options as well as how to handle more difficult or complex patients and how to monitor patients deemed appropriate to remain on chronic opioid therapy."
The Connecticut Medical Examining Board requires 50 CME hours every 2 years. By attending PAINWeekEnd Mashantucket, participants can receive 6.0 CE/CME credit hours as they enhance their skills in medication risk evaluation and mitigation, pain assessment and diagnosis, and delivery of individualized multimodal treatment. Course topics at the Mashantucket PWE include diagnosis and management of centralized pain; the obscurity of opioids; nonopioid analgesics: antidepressants, adjuvant therapies, and muscle relaxants; patient centered urine drug testings; and courses entitled, "Fire the Molecule, Not the Patient! Addressing Irresponsible Prescribing Through Universal Precautions" and "Been Everywhere, Done Everything: Patients Who Fail Standard Treatments." In addition, there will be commercially supported activities addressing a range of product, disease state, and medical information topics.
To see the complete agenda and more information about this or other PAINWeekEnd Regional Conference, go to painweek.org.
The online registration fee for this PAINWeekEnd Conference is $129. PAINWeekEnd registrants are further offered the opportunity to register for the 2017 PAINWeek National Conference, September 4-8, in Las Vegas, for $129 off the current online published price.
PAINWeekEnd is provided by Global Education Group.