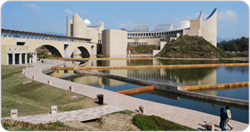 I'm confident that visitors will be enchanted by these exhibits that feature visual, sound and light effects.
Sahib, India (PRWEB) September 23, 2016
Christie® technologies have enabled Sikh heritage to come alive through a slew of spectacular projections that celebrate 500 years of Sikh culture and religious history at the majestic Virasat-e-Khalsa (Khalsa Heritage Complex).
Located in the holy town of Anandpur Sahib in the state of Punjab, Virasat-e-Khalsa is an inspiring tribute to the heroic and poignant saga of the Sikhs and the Punjab. Designed by internationally-acclaimed architect Moshe Safdie, the building is conceived as a repository of the rich heritage of the 'Khalsa' (the collective body of all initiated Sikhs), and emphasizes the core values of universalism, liberalism, and humanism advocated by Sikh gurus. The building comprises two complexes at each side of a ravine, connected by a ceremonial bridge. Amenities include exhibition galleries, a two-story research and reference library, a facility for storing rare archival materials, and a 400-seat auditorium.
Projection technology has been adopted to enliven the rich history and culture of Sikhism, with a total of 40 Christie projectors comprising 29 M Series 3DLP® and 11 Christie G Series 1DLP® projectors (including the Christie WX10K-M, WU14K-M and DWU600-G models) chosen as the illumination sources due to their high-performance, outstanding image quality, and reliability. The projectors are used for large screen curved projections, projection mapping on exhibits, and multimedia shows in different galleries throughout the two complexes. The sophisticated task of designing this experiential space was undertaken by Designhabit, a leading design house based in New Delhi which was responsible for a number of acclaimed large-scale projects across India, including the DS Group Corporate Museum in Noida, and the Fountain of Oneness at Nirankari Sarovar Complex in Delhi. All of these venues featured Christie visual solutions.
"We were given spaces as high as 18 meters and galleries of large volumes. With the extraordinary historical, emotive, spiritual, cultural content available, we decided to make it a dynamic, storytelling museum," said Amardeep Behl, Managing Director, Designhabit. "We carefully integrated the Christie projectors into the exhibits and complemented them with meticulously designed art and composed music to create an emotional impact and immersive experience for visitors."
According to Behl, the results of the projections have been highly satisfactory. "We are very pleased with the performance and reliability of the Christie projectors used in the various exhibition zones. The visuals have added more depth and dimension in telling the story of Sikhism and the birth of the Khalsa. I'm confident that visitors will be enchanted by these exhibits that feature visual, sound and light effects," he added.
Michael Bosworth, General Manager, Christie India, commented, "Virasat-e-Khalsa is a world class museum that depicts Punjab culture and history of Sikhism, and is fast becoming one of the most popular museums in the world. We're honored that the museum has chosen our state-of-the-art G Series and M Series projection systems to be installed in the many exhibition galleries to showcase the rich heritage of the Khalsa community and the history and culture of the Punjab. Designhabit has done a marvelous job of integrating our visual solutions with traditional history and heritage, which in turn inspires visitors with a renewed relevance of the message of the great Sikh gurus for the world today."
Deployed the world-over in every projection scenario imaginable, the Christie M Series is a powerful, compact and efficient lineup of 3DLP dual-mercury projectors available in a range of brightness levels and resolutions, and backed by Christie's industry-leading warranties and support. Perfect for flat or curved screens in rental staging applications as well as large auditoriums, board and conference rooms, houses of worship, and post production in either single or multiple projector setups, the Christie M Series projectors are 3D upgradable and deliver clean, crisp images on large screens.
Ideal for boardrooms, conference rooms, education, and houses of worship, the Christie G Series offers a single-lamp design that lowers total cost of ownership without compromising image quality, while the standard six-segment color wheel offers maximum brightness. Featuring a host of features such as Dynamic Contrast, wireless connectivity, three lens choices, input options and 360-degree projection, the Christie G Series provides users with the flexibility to choose the perfect solution for various applications.
About Christie
Christie Digital Systems USA, Inc. is a global visual and audio technologies company and is a wholly-owned subsidiary of Ushio, Inc., Japan, (JP:6925). Consistently setting the standards by being the first to market some of the world's most advanced projectors and complete system displays, Christie is recognized as one of the most innovative visual technology companies in the world. From retail displays to Hollywood, mission critical command centers to classrooms and training simulators, Christie display solutions and projectors capture the attention of audiences around the world with dynamic and stunning images. Visit http://www.christiedigital.com.
Follow us:
Twitter.com/christiedigital
Facebook.com/christiedigital
Linkedin.com/company/christie-digital-systems
Youtube.com/christiedigital
Instagram.com/christiedigital
#christiedigital
Christie® is a trademark of Christie Digital Systems USA, Inc., registered in the United States of America and certain other countries.
DLP® is a registered trademark of Texas Instruments.